Causes of Uterine Fibroids:
The exact cause of uterine fibroids is not entirely understood, but they are thought to be influenced by hormones, particularly estrogen and progesterone. They usually develop during the reproductive years when hormone levels are higher, and tend to shrink after menopause when hormone levels decrease.
Symptoms of Uterine Fibroids: 
Heavy or prolonged menstrual periods.

Pelvic pain or pressure.

Abdominal bloating or swelling.

Frequent urination or difficulty emptying the bladder.

Pain during sexual intercourse.

Back pain.

Constipation.

Infertility or recurrent miscarriages (in some cases)
Expert Care for Uterine Fibroid Embolization: Enhancing Lives at Aster Prime Hospital.
Aster Prime Hospital is proud to have a renowned and highly experienced consultant specializing in the treatment of uterine fibroid embolization (UFE). With a wealth of expertise and advanced medical knowledge, the consultant provides exceptional care to patients suffering from uterine fibroids. The hospital's state-of-the-art facilities and cutting-edge technologies allow the consultant to offer a wide range of effective treatment options, tailored to each patient's specific needs. With a compassionate and patient-centric approach, the consultant at Aster Prime Hospital aims to relieve discomfort, improve uterine health, and enhance the overall quality of life for all individuals seeking treatment for uterine fibroid embolization
Key Benefits of Uterine Fibroid Embolization:
No Scars / Sutures

No Anaesthesia

Only One Day Hospitalization

Early Resumption of Activities Within 3 Days

10 Times Safer Than Surgery

Patient Can Walk Out of The Procedure Room

No Rest Needed
Our Doctors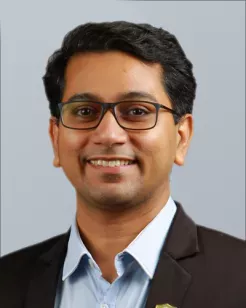 Sr. Consultant - Interventional Cardiology
MBBS, MD, DM, MRCP, FRCP, FACC
Overview
Dr. Tahsin Neduvanchery earned a Doctor of Medicine (MD) degree in Cardiology from Government Medical College, Madurai in 2009. He also earned a Membership of the Royal Colleges of Physicians of the United Kingdom (MRCP) in 2011. Thereafter, he pursued a super-specialty post-doctorate course from Government Medical College, Calicut to become a Doctorate of Medicine (DM) in Cardiology. He is also a Fellow of the Royal Colleges of Physicians of the United Kingdom (FRCP) and a Fellow of the American College of Cardiology (FACC). In his career of 12 years to date, he has done numerous case presentations at state, national and international conferences. In 2019, he received the Brand Indian Icon award for innovative procedures. In the same year, the Confederation of Indian Industry (CII) honored him with the Six Sigma award for adopting and implementing techniques that resulted in improvement in processes. Dr. Neduvanchery is the course director of the MRCP PACES preparatory program, at Aster MIMS, Kottakkal.
Awards and recognitions
Fellow of American College of Cardiolody Course Director-MRCP PACES exams SIX SIGMA Award 2019
LANGUAGES
English, Hindi, Tamil, Malayalam
Doctor Videos
1. What Are The Causes Of Stroke?
Why Aster Prime
Aster Prime is the only hospital in Hyderabad / Telangana that offers the best treatment at economical prices. The most effective and affordable pregnancy packages in the city of Hyderabad are now available at Aster Prime. We have multispecialty departments i.e. General Medicine, General Surgery, Pediatrics & Neonatology, Pediatric Surgery, Cardiology, and Neurology.
Our Round-the-clock Critical Care team makes it easier to manage every high presence of pregnancy like GDM, Heart disease in pregnancy etc. We also have available 24/7 advanced Laboratory & Radiology services, Blood Bank services & fully equipped Critical Care wards for high-risk pregnancies.