Neck and Back pain can be more than just physically challenging; it affects your work life, your mood, and your freedom. Here are some factors to understand about this debilitating condition.
Back and neck discomfort can vary from mild twinges to intense, debilitating pain 

Frequently, the exact cause of the pain remains unidentified 

If you experience symptoms like numbness, severe pain that doesn't get better with medication & rest, difficulty urinating, leg weakness or pain, fever, unexpected weight loss, or pain following a fall, consult a medical professional 

Adopt preventive measures to maintain good health and avoid injuries

While back and neck pain often subsides with time, seek medical advice if there's no improvement
At Aster Ramesh Hospitals, we can help you go pain-free in a short time. With state-of-the-art technologies, advanced modalities, experienced doctors & surgeons, and a cross-functional approach, we are fully geared to support your path to recovery and mobility.
ASTER RAMESH HOSPITALS' NECK & BACK PAIN PACKAGE For the complete treatment of long-term neck & back pain.
MONDAY TO SATURDAY | 10 AM TO 6 PM
INCLUSIONS
RBS | HbA1c | Serum Creatinine | Serum Uric Acid | X-ray | Consultation with Neurosurgeon
WHY ASTER RAMESH HOSPITALS?
Dr. P. Ramesh Babu, MD, DM, FSCAI, a health care visionary and a renowned cardiologist with a strong passion for bringing quality and affordable holistic care to Andhra Pradesh, founded Ramesh Hospitals in 1988. In support of the growing patients' needs of the coastal Andhra Pradesh region, Aster Ramesh Hospitals, emerged as a leading multispecialty, advanced tertiary care chain with 4 N.A.B.H. accredited branches. Our Guntur branch is the first hospital in Andhra Pradesh to earn the coveted accredation of Joint Commission . International(JCI), for its quality care and patient safety standards.
 Our hospitals are supported by 710 operational beds across Vijayawada, Guntur, and Ongole. 
Our 24X7 health care facilities are served by a dedicated team of 80+ full-time Consultants, 100+ junior doctors, and 1200+ medical staff across multiple specialties. We have a broad array of health care options with extended reach across Andhra Pradesh through a network of over 30 Telemedicine and Outreach centers.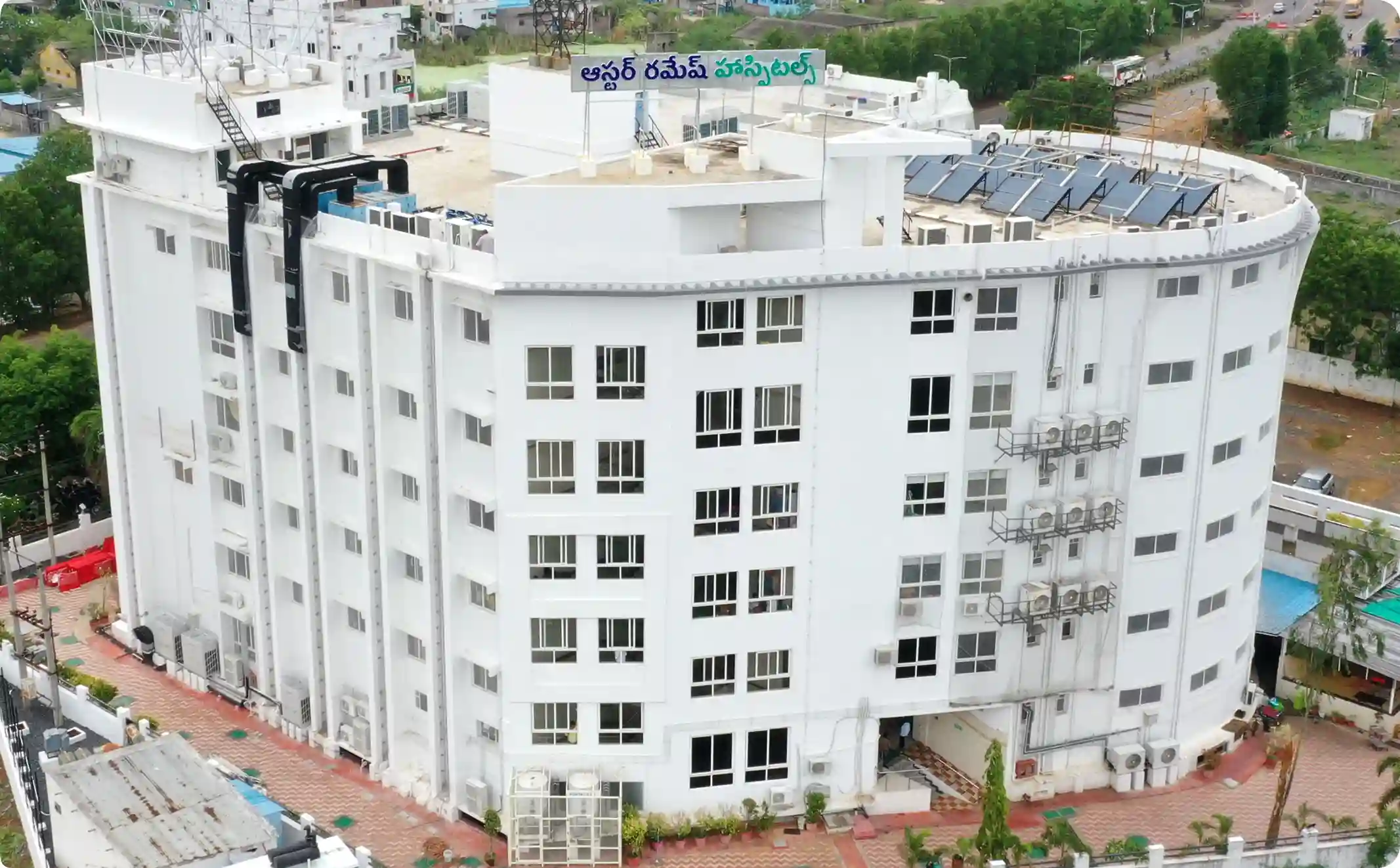 ONGOLE
08592 286 777 / 779988 5570
NH 5, South Bypass Road Junction, Ongole, Andhra Pradesh