Chronic Pain Management
What is chronic pain?
Chronic pain is defined as pain that lasts for more than six months or prolongs beyond the usual recovery period. The condition often affects a person's ability to perform normal activities of daily living like sleep, work, and eating habits. Chronic pain is just not a symptom it's a disease by itself and would benefit if a proper diagnosis and a treatment plan were established.

What are the causes?
A prolonged chronic illness ranging from common low back pain or knee osteoarthritis to sinister cause like cancer could be the reason for ongoing pain.

What are the types of chronic pain?
The commonest examples of chronic pain are -

1. Lower back pain
2. Headache
3. Neck pain
4. Joint pain
5. Neurogenic pain (pain caused due to nerve damage)
6. Post-trauma pain
7. Post surgical pain
8. Psychogenic pain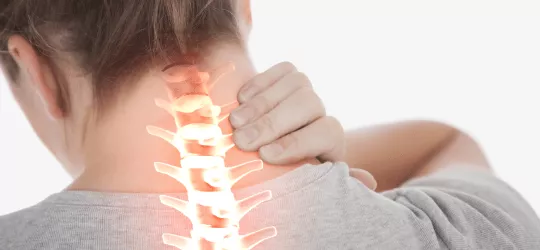 What are the signs and symptoms of chronic pain?
While chronic pain itself indicates that something is wrong with your body. However, the pain can range from mild to intense indicating that the pain is just one of the many signs, including:

1. Getting exhausted easily
2. Loss of appetite
3. Poor sleep and mood swings
4. Weakness
5. Feeling fatigued
6. Impaired mental function leading to depression and anxiety
7. Fever in some cases

How can a pain management clinic prove effective?
Many times, the diagnosis of chronic pain may be made, but the right management plan for the individual might be lacking. The possibility of a diagnosis for the pain might be missing despite post multiple consultations and investigations. This may further lead to a lot of stress on your mind and body and will impact every aspect of your life.
To resolve the impact of chronic pain and provide a complete solution, you may need to visit a specialized Pain Management Centre that will provide a team of experts to arrive at the right diagnosis, plan comprehensive individual-based management, and offer specialized care.
The pain management program at ASTER RV offers a wide range of treatments to reduce chronic pain and facilitate recovery.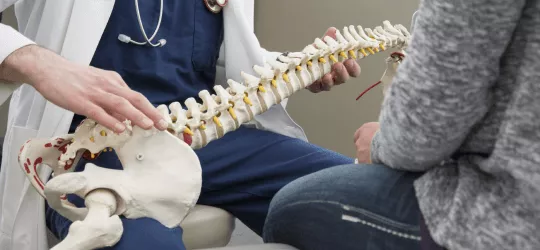 This includes treatments and therapies like -

- Arriving at the right diagnosis
- Individualized treatment plan
- Dry needling or Interventions Ultrasound guided
- Interventions guided by fluoroscopy or ultrasound guidance for precision
- Manual therapy by physiotherapy
- Ergonomics guided by an occupational therapist
- Lifestyle modifications
- Psychotherapy
- Self-management techniques

Early diagnosis and communication by the healthcare providers are found to be useful in the self-management of chronic pain and hence, pain management centres can prove effective in the treatment of chronic pain.

Why choose Aster RV?
At Aster RV, our experienced pain management department adopts an interdisciplinary approach for comprehensive care and overall assessment and accurate diagnosis of the patients. This ensures an effective and personalized treatment plan for every patient and improves their quality of life. Our experts tailor the intervention and therapies to every patient's requirement, to ensure faster pain relief and recovery of the patients with reduced hospital visits.

How is the pain treated at Aster RV and what are the procedures that are performed?
The pain management department at Aster RV focuses on evidence-based care that aims to provide relief and quality care with precision and compassion. We provide a host of treatments including –

1. Comprehensive Chronic Pain Interventions with Ultrasound-Guided Tendon/Joint Procedures
2. Cervical Facet Joint Injections, Lumbar Facet Joint Injections, Dorsal Root Ganglion Block
3. Epidurogram and Epidural Injection
4. Radio Frequency Denervation, Vertebroplasty/ Kyphoplasty
5. Spinal Cord/ Sacral Stimulators
6. Intrathecal Pump Infusions
7. Central and Peripheral Neurolysis

With our tailored therapy plans and techniques, we have successfully managed the following conditions in the past –
1. Musculoskeletal/ Myofascial Pain
2. Low back pains/ Slip disc pain/ Sciatica
3. Neck & Shoulder Pain
4. Headaches: Stress-related, Cluster, Cervicogenic or Migraine
5. Post Stroke Pain/ Post-surgical Pain/ Post-Injury pain
6. Work-Related Injuries
7. Carpal Tunnel Syndrome
8. Neuropathic Pain: Phantom Limb Pain, diabetic neuropathy
9. Rheumatological Pains
10. Complex Regional Pain Syndrome
11. Fibromyalgia
12. Post-Herpetic Neuralgia
13. Trigeminal Neuralgia
14. Scar/ Nerve Entrapment Pain
15. Cancer Pain
At Aster RV, we live by our motto of 'We Treat You Well' and ensure that every patient that is visiting our premises gets complete care. The first step of our diagnosis is to identify the source of pain and then aggressively proceed to target this source for long-term pain relief.

Our Doctor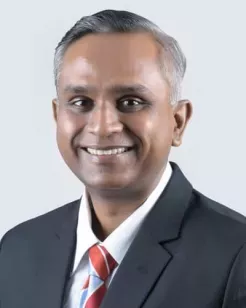 Dr. Raghavendra Ramanjulu
Lead Consultant - Pain, Palliative Medicine & Rehabilitation
Dr. Raghavendra Ramanjulu is a highly acclaimed Pain and Palliative Physician working as the Lead Consultant - Pain, Palliative Medicine & Rehabilitation services at Aster RV Hospital. His areas of special interest are Complex Interactable Symptom Management, Interdisciplinary Pain management, Interventional Pain Management, Palliative Rehabilitation, End of Life care, Extended care at home.

Doctor's Videos
 
Chronic pain VS Palliative care services
 
Chronic Pain Services
 
Headache & Migraine
 
Knee Pain & Shoulder Pain
 
Neck & Back Pain
 
Hospice VS Palliative Care
 
Interventional Pain Management
 
Palliative Care
 
Trigeminal Neuralgia
 
Palliation and Pain Management