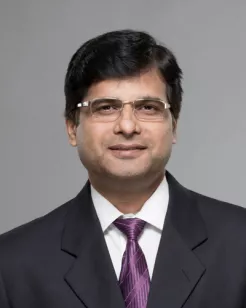 Dr. Sudhirkumar Kale
Lead Consultant - Radiology
Overview
Dr. Sudhir Kale has a rich experience of 15 years in cross-sectional imaging with main focus and expertise on CT and MRI scans. He is specialised in whole-body CT/MR Imaging and well-versed with advanced MRI & CT applications with expertise on Liver imaging, Coronary imaging, Neuroimaging, Gastro imaging, Pulmonology, Oncology, MSK imaging and Sports injuries.

Dr. Kale graduated from MRMC Gulbarga and did his post-graduation in radio diagnosis from Barnard institute of Radiology - Madras Medical College. He is a DNB PG teacher and Guides for the national board of examinations. Dr. Kale is certified in MR-guided HIFU surgeries (Magnetic resonance-guided high-intensity focused ultrasound surgeries).

He has reported MRI in Research Projects in Neuro Radiology (Multiple Sclerosis, Peripheral Vascular Disease, Fibroids and Cartilage Mapping).
Area of expertise
Cross-sectional imaging with main focus and expertise on CT and MRI scans.
Awards and recognitions
Best presentation award as post-graduate in National Conference IRIA, Jaipur
About 140 plus platform presentations in CME, State and National conferences
He has conducted and organized radiology CME and workshops
Has reported MRI & CT scan for NCA (national cricket academy) and KSCA (Karnataka state cricket academy) for many Indian, International and IPL players
Membership
Life member of Indian Radiological Imaging Association, Indian college of Radiology & Imaging and Indian Association of Cardiac Imaging
Former Joint Secretary of Indian Radiological and Imaging Association (IRIA)
Papers Published
Authored a chapter on MR HIFU in text book and colour atlas of fibroids. He also has publications in Indian and International journals.
The Level 3 NICU Under His Supervision Is Credited With -
Survival of extremely premature twins ( below 1000gms) with good postnatal neurodevelopmental outcome.
Unit cares sick neonates following neonatal surgeries for CDH, TEF repair, anorectal malformation, mid-gut volvulus, congenital megacolon etc with a good outcome.
He is a strong believer of the quotation Time lost is never found again. He preaches and practices Golden minute intervention ( timely intervention) and evidence-based neonatal practice as a path for the better neonatal outcome. He also believes and endorses that the trained dedicated nursing team is success foundation stone for the best neonatal unit.