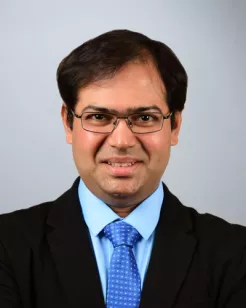 Dr. Vikram Maiya M
Consultant - Radiation Oncology
Overview
Dr Vikram Maiya is a highly acclaimed Radiation Oncologist working at the best oncology hospital in Bangalore - Aster CMI.

He completed his MBBS from Karnataka Institute of Medical Sciences, followed by DMRT and MD from the prestigious Christian Medical College, Vellore. He was working as a radiation oncologist at Ruby Hall, Pune, during which time he underwent special training in Gamma Knife Radiosurgery and Stereotactic Radiosurgery at the University of Pittsburgh.

Dr. Vikram Maiya also underwent special training in image-guided radiotherapy on Tomotherapy at the University of Wisconsin. With his expert training, he has the honour of starting the first IGRT program in India in 2006.

His areas of specialization include Conventional RT, 3DCRT, IMRT, IGRT, SRS, SRT AND SBRT, in short, all the latest advances in radiation therapy. He has a special interest in functional Radiosurgery and treatment of non-malignant conditions using SRS.
Awards and recognitions
Received the best paper award at national AROI
2005 Special training in Pain and Palliative care from CMC
Vellore First in India to start the IGRT program in 2006-2007 Numerous oral and poster presentations in various national and international conferences Numerous publications in various national and international journals DNB teacher and guide for radiation oncology students Author of chapters in gynaecological oncology textbook and Handbook of Palliative care Secretary of Karnataka chapter of Association Of Radiation Oncologist Of India (AROI) Executive committee member of Bangalore Oncology Group (BOG) Member of education committee of American Society of Therapeutic Radiation Oncologists (ASTRO)