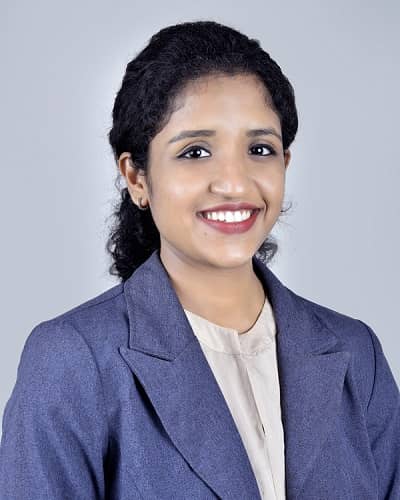 Ms. Kripa John
Bachelors in Occupational Therapy, Masters from Manipal College of Health Professions, Post Graduate Professional Experience in Developmental Disabilities
Overview
Kripa John is a paediatric Occupational therapist currently working at Aster CMI. She completed her Bachelors in Occupational therapy from Kovai Medical Center and Hospital, Coimbatore and her Masters from Manipal College of Health Professions. Her post graduate professional experience specialized in Developmental Disabilities.
She is involved in the management of children with Autism Spectrum Disorder, Attention Deficit Hyperactivity Disorder, Cerebral Palsy, and various other neurodevelopmental as well as other conditions that limit optimal participation of children in their day to day activities.\
Proficient in occupational therapy management like interventions to improve play skills, sensory processing, self-care skills training, feeding interventions and interventions for handwriting and many other.
Skilled in doing evaluations using different pediatric motor and sensory assessments as well as play, self-care and various other functional outcome measures.
Conferences Workshops/CME/Presentations:
53rd Annual National Conference of AIOTA-OTICON 2016 organized by SRM University, Chennai & TN Branch of AIOTA
56th Annual National Conference of AIOTA-OTICON 2019 organized by PGIMER, Chandigarh
Delegate in the State Level Conference on Cognitive Rehabilitation – An Overview in 2017
COTE (Continuing Occupational Therapy Education) workshop titled "Working with High-Risk Infants and Families: Journey from NICU to Home and Beyond" in 2019