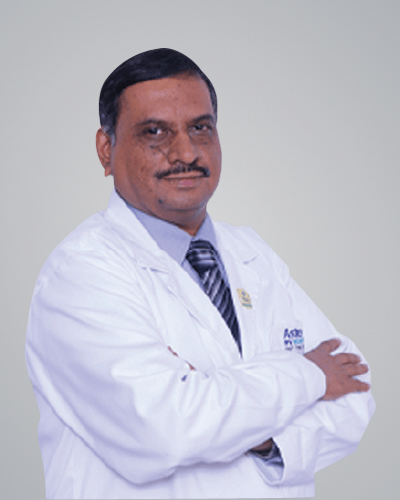 Dr. Dwarakanath Thayur Raghavendra
Consultant - CTVS Surgeon
MBBS, MS (General Surgery), DNB (General Surgery), DNB (CTVS)
Overview
Dr. Dwarakanath Thayur Raghavendra is a Consultant, CTVS Surgeon at Aster RV Hospitals, JP Nagar, Bangalore. He has overall seventeen years of experience in the field of cardiac surgery. Prior to joining to Aster RV, he was working as a senior consultant cardiac surgery at Narayana Medical College Hospital. He is a recipient of Gold Medal for securing highest marks in MS( General Surgery) from Goa University.
Education Qualification:
Dr. Dwarakanath Thayur Raghavendra has completed his MBBS from Mysore University in 1995 and MS in General Surgery from Goa University in 1999. Later, in 2000, he finished his DNB in General Surgery and in 2005 he completed his DNB - CTVS from Sri Satya Sai Institute of Higher Medical Sciences.
Work Experience
Dr. Dwarakanath T R has joined the department of CTVS, SSSIHMS, Whitefield, Bangalore as a DNB trainee in September 2002. During his training period, he has the opportunity to assist in more than 1000 cardiac surgeries in different capacities. He has been a part of a team of surgeons with the good quantum of work both in adult and pediatric cardiac surgery. He has also performed about 100 surgeries under supervision during that period. He has also the opportunity to work with Dr. Rajan Santosham for a period of 1 month, during which I got to assist him in about 50 thoracic cases.
In 2005, he was appointed as Junior consultant in the department of CTVS at Sri Satya Sai Institute of Higher Medical Sciences. During the following 20 months, he has performed about 560 open and closed heart surgeries. He has also shared the responsibility of training DNB CT surgery residents.
Subsequently, in August 2007, he joined Wockhardt hospitals as Junior consultant and performed the full range of cardiac surgical cases.
In March 2014, he joined Fortis Hospitals, Cunningham Road, Bangalore as a Consultant Cardiothoracic surgeon as a part of the restructuring of the department. As a part of the Fortis group he has been a regular visiting Cardiac surgeon at Basrah Cardiac centre, Basrah Iraq since October 2014 and has performed about 200 cardiac surgeries. He has also been involved in setting up of the Cardiac Centre in Basrah and training the Cardiac Surgeons there which has been well received and appreciated by the Iraq government.
Subsequently, in 2017 he joined Narayana Medical College a cardiac surgical program which would encompass both adult and pediatric surgeries.
Membership:
Indian Association of Cardiothoracic and vascular surgeons.
Fellow of the Indian Association of Cardiothoracic and Vascular Surgeons.
Papers Presented :
Bi-directional Glenn under veno-venous bypass A reality presented at Golden Jubilee Conference of IACTS in New Delhi, Feb 2004
Comparison of VSD closure using the autologous pericardial patch with continuous & interrupted suture technique presented at CTCON 2006 in Bangalore
Extended Total Thymectomy in Myasthenia Gravis -  An institutional study in Fifty consecutive cases presented at CTCON-2006 in Bangalore.
Modified Blalock-Taussig shunt,our five year experience - presented at the CSI Bangalore chapter April 2006
Papers Published:
Bi-directional Glenn under veno-venous bypass – A reality" – Journal of Indian Association of CT surgeons April 2005