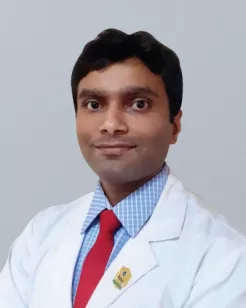 Dr. Kishore K V
MBBS, MD (General Medicine), DM (Neurology), DNB (Neurology), Fellowship in Epilepsy, MRCP(UK) Neurology, MNAMS
Overview
Dr. Kishore KV is an enthusiastic physician as well as a neurologist. He is known for his willingness to learn, confidence in his own abilities. He is a very flexible doctor who can efficiently adapt to any working environment. He is a team player, but he also can and has the credentials to lead and handle a department independently. One can always rely on him to get the job done. 
Education
Dr. Kishore did his MBBS from Vydehi Institute of medical sciences and research center from Whitefield Bangalore in 2006-2012. After this, he pursued M.D. in general medicine from Bangalore Medical College And Research Institute, Bangalore, from 2013-to 2016. Dr. Kishore also did D.M. Neurology from the National Institute Of Mental Health And Neurosciences (NIMHANS) from Bangalore city completed in 2020. He then pursued DrNB in neurology which was awarded to him by the National Board of Examinations in New Delhi during a June 2020 session. He also has a PDF in epilepsy from the National Institute Of Mental Health And Neurosciences (NIMHANS) in Bangalore in December 2021. Dr. Kishore also became a member of the national academy of medical sciences in December 2021.
Specialty
He specializes in managing all general medical cases. 
He is also an expert in leading critical medical issues. 
Handling neurological cases is one of his strengths. 
He is an expert in optical coherence tomography. 
Drug-resistant epilepsy is also among the strong suits of Dr. Kishore. 
Achievements
He was the school topper and among the top 20 highest scorers in SSLC in the board examination held by Karnataka in 2004.
He was a college topper in general surgery. 
He was also a college topper in pediatrics. 
He has a university gold medal in pediatrics. 
Dr. Kishore received 2nd place in Apicon 2016 all India quiz. 
Journals Published
Dr. Kishore has had four papers published in journals until now. The topics of his thesis and research work are:-
The first thesis is on "Serum homocysteine levels in thyroid disorders. "
The second thesis is on "Clinical, neuro-ophthalmological profile."
The third thesis is on "leptin gene Polymorphism."
The fourth thesis is "Outcome in Patients with Idiopathic Intracranial Hypertension."
Publications
He has worked on the book "An unusual cause of persistent pleural effusion in a patient with pancreatitis, along with Parvathi M, Vyasaraja KK, and Sharanappa NB. 
He has worked with Chandra Sar, Padmanabha H, Koti N, Kayla Vyasaraja K on N-methyl-D aspartate encephalitis our experience with diagnostic dilemmas, clinical features, and outcome,
Non-multiple-sclerosis-related typical and atypical white matter disorders is another publication he has worked on along with Chandra SR, Ramanujam C.N., Kalya Vyasaraj K, Christopher R, Padmanabha H, Jagadish A.
BLANKET ANTIHELMINTHIC THERAPY IN IRON DEFICIENCY ANEMIA; RIGHT OR WRONG? Dr. Kishore has worked on Nirmala A.C., Edwin George, and Avinash B.H.