Our team of General and GI surgeons are extensively trained in both conventional and laparoscopic surgery and are fully equipped to manage a wide range of digestive tract diseases. In addition to GI tract surgery, they are also skilled in thoracoscopic, general, emergency, and laser surgery.
At Aster RV Hospital, we pride ourselves on being a centre of excellence for laparoscopic and minimally invasive surgery.
AREA OF EXPERTISE: SURGERIES WHICH ARE BEING PERFORMED AT OUR CENTRE :
The centre of excellence in surgery and allied specialities at Aster RV Hospital has a dedicated team of highly experienced surgeons, who combine their expertise with the latest technologies to offer the best in clinical outcomes. Our team includes accomplished surgeons with proven expertise in the field of Gastrointestinal tract surgery, cancer surgery, advanced laparoscopic surgery, thoracoscopic surgery, weight reduction surgery, various and advanced hernia surgery endocrine surgery and laser proctology.
SURGICAL GASTROENTEROLOGY:
Upper GI tract surgery: Lap fundoplication and Lap cardiomytomy for GERD and Hiatus hernia (reflux disease)
Hepatobiliary and pancreatic surgery: Lap cholecystectomy, Lap hepatico jejunostomy for bile duct disease, lateral pancreatic jejunostomy for pancreatitis
Intestinal surgery: laparoscopic Small bowel resection, lap colectomy for diverticulitis, prolapse and benign disease
Solid organ surgery- splenectomy, hepatic resections
Crohns and ulcerative colitis surgery: lap small bowel resection, lap stricturoplasty, ileal pouch surgery
TAMIS Surgery for anal and rectal disorders.
Bariatric Surgery
Our experts perform various weight loss surgery keyhole/laparoscopic surgery with results comparable to international standards. A multimodal approach to obesity includes a team of experienced endocrinologists, physicians, psychiatrists and dieticians in addition to an excellent team of anaesthetists. We at Aster RV perform sleeve gastrectomy, gastric bypass MGB, and RYGB. endoscopic intragastric balloon placement.
GI Cancer Surgery
Our skilled team of doctors perform all the major GI tract cancer surgery. Though cancer surgeries are commonly performed by an open method of operation i.e., Laparotomy, in our hospital well experienced doctors conduct complex cancer surgeries by minimally invasive and laparoscopic methods.
Example: lap Whipple's procedure, lap hepatectomy, lap colectomy.
We also provide comprehensive Onco-Care with help of the best medical oncology team and radiation oncology team.
Thoracoscopic Surgery (ETS surgery / Hyperhidrosis)
Aster RV Hospital is a centre of excellence for Endoscopic Transthoracic Sympathectomy for Hyperhidrosis. This surgery is regularly performed here and many people have got benefitted from the above surgery. We have excellent and well-experienced surgeons who perform a thoracoscopic procedures such as sympathectomy, decortication, lobectomy and pleural biopsy.
Abdominal Wall Reconstruction/ Complex Hernia Surgery
In addition to performing routine laparoscopic hernia repair surgery for Umbilical hernia and inguinal hernia, we also perform advanced surgery for a recurrent and large hernia.
Ex TAP TEP ETEP, E-TAR, TARM, SCOLA, component separation.
Laser Proctology and Complex Fistula Surgery
We conduct laser fissurectomy, laser haemorrhoidectomy, and laser fistula surgery. We also perform laser EVLT for varicose veins and laser pilonidal sinus ablation for pilonidal sinus and abscess.
Endocrine Surgery - Scarless Thyroidectomy
The department is one of the very few to be doing endoscopic thyroidectomy (scarless neck thyroid surgery). allowing an excellent cosmetic result. In addition, surgeries for parathyroid and adrenal tumours are performed routinely.
General Surgery
Excision of lipoma, sebaceous cyst, lymph node biopsy, small tumour excision, hydrocele surgery, circumcision, varicocele, foot ulcers etc.
24*7 Emergency care
Emergency laparotomy for perforation of the intestinal tract, obstructed and strangulated hernia, chest trauma, solid organ trauma, Acute appendicitis, and Acute Cholecystitis.
One-point contact for queries
Our department has outpatient, and inpatient coordinators who are the single points of contact for all queries with respect to insurance and billing-related issues. We also have a designated nursing coordinator who will address your concerns about the medical instructions.
We have some of the best speciality doctors from around the world, they bring years of experience and offer evidence-based treatment to ensure the best care for you.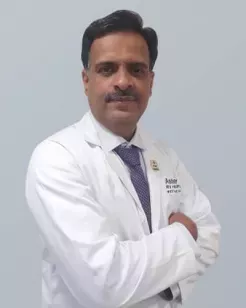 Lead Consultant - General & GI Surgery
MBBS, MS (General Surgery), MCh (Gastrointestinal Surgery/Liver transplant)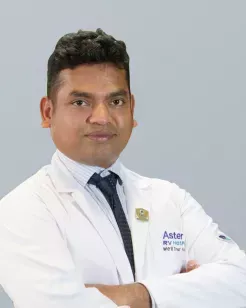 Dr. Shivaprasad Giliyar Srinivasa
Consultant - General & GI Surgery
MBBS, MS (General Surgery)
How to consult surgical team doctors?
You can take an appointment through the hospital website or by calling landline numbers. In Aster RV hospital there is a designated co Ordinator for the surgical team, with whom you can discuss the doctor's available time and reschedule the appointment or book a video consult.
How to plan and schedule surgery?
Post consultation you can meet an anaesthetist (PAC- Pre Anaesthetic Check-up )and undergo basic blood investigations, and submit insurance documents/finance counselling to avoid hassle-free admission and surgical procedure.
No…. not at all …during the surgery, you will be completely asleep/part of your body will be anaesthetized. There are various modalities of anaesthesia such as general, spinal, and regional anaesthesia which will keep you absolutely pain-free.
Do I have any diet restriction after the surgery?
Patients who undergo daycare surgeries such as lap cholecystectomy and lap hernia may resume diet after six hours of surgery. However, those who undergo major Gastrointestinal surgeries may have to fast for 24 hours and then follow it as per the doctor's advice.
Do I have to stop smoking and alcohol before surgery?
Yes. At least 2 weeks before surgery you should abstain from alcohol and smoking as it hinders wound healing.
What happens in outpatient department?
Generally, most of you will approach the surgeon with the primary diagnosis, however, symptoms such as abdominal pain, swellings, weight loss, bleeding, etc will be further investigated and diagnosed. The plan of care will be discussed to the patient and family members.
How many days do I have to get admitted?
daycare/one day/short stay admission: surgeries such as lap cholecystectomy/lap appendicectomy/lap hernia surgery.
Early morning admission > 6 to 8 hours of fasting > pre-op medications > surgery > post-op monitoring in recovery room > overnight ward stay > discharge the next day.
Long stay admission: abdominal surgery, cancer surgery, intestinal surgery.
One day prior to admission > 6 to 8 hours of fasting > pre-op medications > surgery > post-op monitor in ICU (1- 2 days) > 4 to 5 days of ward stay > discharge.
Do I experience pain after surgery?
In our hospital, we have experienced anaesthetists who provide pain-free post-op care. This is achieved through special treatment such as epidural anaesthesia, regional blocks, PCA etc.
Do I have to restrict my physical activity following surgery? When can start exercising? When can I resume gym?
You can resume your daily chores after one or 2 days after the discharge date. You can restart jogging, and cardio work out after one week and should avoid strenuous exercise for 3 months.
What our Doctors Are Saying
Aster RV General Surgery
Protect your health by ensuring that the problem is detected at an early stage for quick, effective treatment.