ASTER EPILEPSY CENTER
Even as the fourth most common neurological disorder, we have only basic knowledge about epilepsy. This unawareness often results in underdiagnoses and a lack of treatment, especially in the case of children. Aster Paediatric Epilepsy Centre strives to create a change in our community by offering advanced monitoring, testing and treatments for complex types of epilepsy.;
Guided by international standards and patients' individual needs, the epilepsy centre offers full-fledged epilepsy treatments and services, including medical management, surgical interventions, sophisticated monitoring systems and all allied services. Our epilepsy surgery programme is complemented by capabilities for depth monitoring, functional imaging with PET-CT, and functional MRI. In addition to Child Neurology services, we also provide Neurodevelopmental services, Neurorehabilitation services, and Child behavioural health services.
The centre houses dedicated Video EEG machines for long-term epilepsy monitoring and pre-surgical monitoring of medically intractable epilepsy. In addition, outpatient EEG monitoring, portable EEG monitoring, and pediatric neurology/pediatric epilepsy programme are available here. Additional support for these subspecialties is provided by the departments of physical medicine and rehabilitation, the Interventional pain department, and Neuropsychology and Psychiatry.
WHY ASTER MEDCITY

We'll Treat You Well - We have a specialized program for the assessment, medical and surgical treatment of epilepsy in both children and adults.  Our comprehensive pre-surgical evaluation is available for patients whose seizures cannot be managed fully with anti-epileptic medications.
We Believe In Team Work -  We boast of a certified epileptologist trained in both adult and pediatric epilepsy, guiding a multi-disciplinary team to address the complex needs of adults and children with epilepsy.
Epileptologist, pediatric and adult neurologists; neurosurgeons; neuroradiologists; nuclear medicine physicians; nurse specialists; pharmacists; physical, occupational and speech therapists; dietitians; neuropsychologists; educational counselors and social workers; and a team of scientists and technologists all work together to provide personalized medical care to adults and children
We Believe in Designing Hospitals That Heal Faster - Our hospitals are designed based on inputs and insights from patients by specialised architects with the clear intention of creating a soothing, spacious, uncluttered, warm, caring ambience that puts our patients instantly at ease.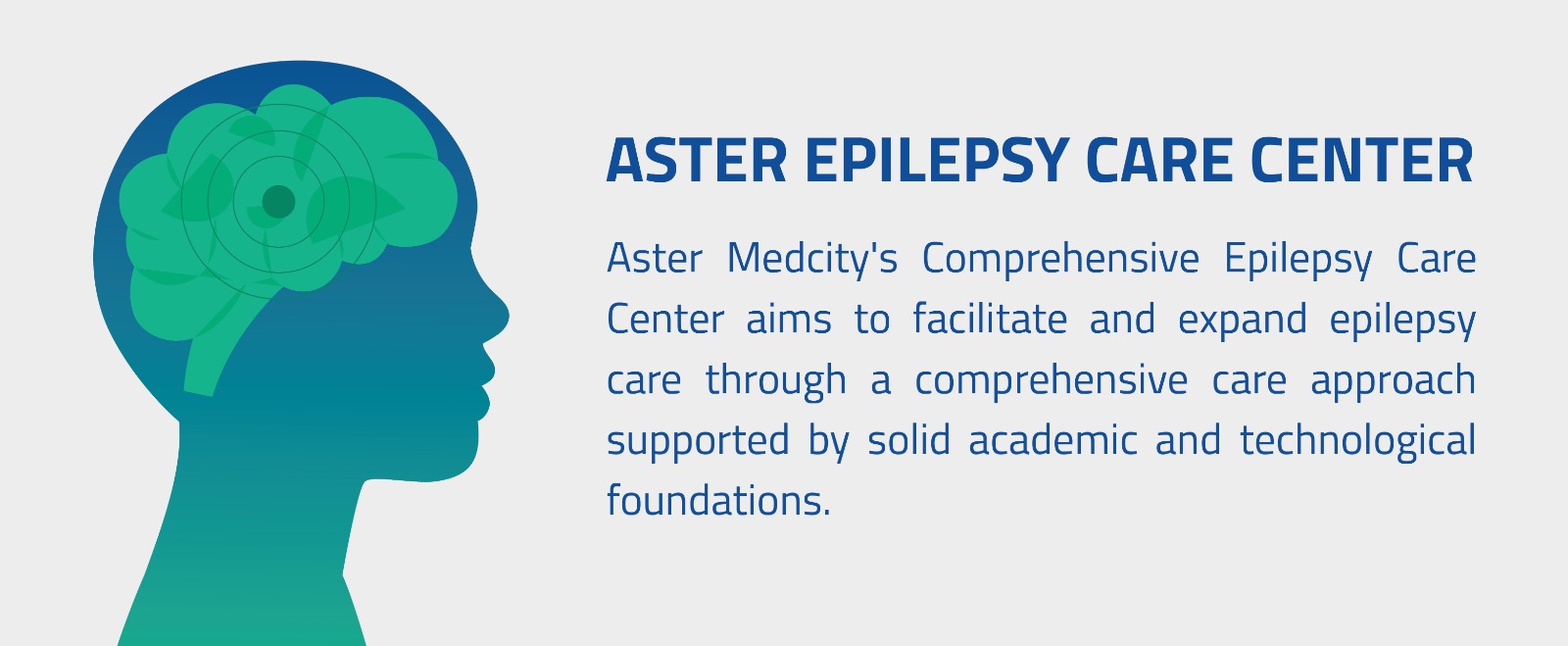 At Aster Medcity, we always strive to deliver complete, comprehensive and compassionate care at one-place. All the treatment options are made available to them. The best possible treatment plan is derived keeping the patient's conditions in mind.
About 70% of people who experience seizures can manage their symptoms with medication. Based on the medical history, the type and frequency of seizures, related illness and expected tolerance level, Specific Anti-Epileptic Drugs (AEDs) are prescribed. When AEDs are not working, surgery is the next effective step in treatment. Surgery is the best option in the case of brain tumours, abnormal connections in blood vessels, and mal-development of the brain.
Developmental Paediatrics
A Developmental Paediatrics is management of developmental disorders in children including Attention Deficit Hyperactivity Disorder (ADHD), Autism Spectrum Disorders, Cerebral Palsy, learning disabilities, intellectual disabilities, behavioural disorders and genetic syndromes. Trained at one of the finest medical institutes in India, Our team believes in providing holistic care to children with neurodevelopmental disorders, with strong focus on maximising their capabilities and improving their quality of life.
Based on the medical history, the type and frequency of seizures, related illness and expected tolerance level, Specific Anti-Epileptic Drugs (AEDs) are prescribed. When AEDs are not working, surgery is the next effective step in treatment. Surgery is the best option in the case of brain tumours, abnormal connections in blood vessels, and mal-development of the brain.
Epilepsy surgery is a procedure that either removes or isolates the seizure-producing area of the brain. Depending on the type of seizures and where they begin in the brain, the procedure can be either curative or palliative. In the curative procedure, the seizure focus area is completely removed without causing brain dysfunction. Such procedures are lobectomy, cortical excision or hemispherectomy. The palliative procedure prevents the spread of the seizure by disconnecting brain pathways to stop or reduce the seizure frequency. Procedures such as corpus callosotomy or vagus nerve stimulation (VNS) are some of the commonly performed ones.
A healthy mind is as important as a healthy body for a happy and productive life.' The Department of Psychiatry & Counselling Services at Aster Medcity to improve the mental and psychological well being of our patients. We deal with all kinds of psychological issues such as stress, anger, anxiety, and depression. We have a team of a highly experienced psychologist, Cognitive Behavioural Therapist, and stress management experts. Counseling with a psychologist will treat the symptoms and the root cause of psychological ailments. Our psychiatrists have treated patients from accross the globe with a good success rate
FACILITIES

Scalp EEG
An EEG records the electrical activity of your brain via electrodes affixed to your scalp. EEG results show changes in brain activity that may be useful in diagnosing brain conditions, especially epilepsy and other seizure disorders.

Video EEG
A video EEG records what is happening when you have a seizure or event and compare the picture to what the EEG records at the same time.

Invasive EEG
Invasive EEG recordings are those recordings that are made with electrodes that have been surgically implanted on the surface or within the depth of the brain.

Electrocorticography
This is a procedure used intraoperatively to confirm the location and extent of epileptic tissue by recording electrical activity directly from the surface of the cerebral cortex.

3T Epilepsy Protocol MRI
MRI protocol for epilepsy is a group of MRI sequences put together to improve sensitivity and specificity in identifying possible structural abnormalities that underlie seizure disorders.

PET CT
Positron emission tomography (PET) scans detect early signs of cancer, heart disease and brain disorders. An injectable radioactive tracer detects diseased cells. A combination PET-CT scan produces 3D images for a more accurate diagnosis.

SPECT Studies
A single-photon emission computerized tomography (SPECT) scan lets your doctor analyze the function of some of your internal organs. A SPECT scan is a type of nuclear imaging test, which means it uses a radioactive substance and a special camera to create 3-D pictures.
We take great care to work with doctors who understand the true spirit of why we exist. Our team of experts spend quality time with the patient, focus on the person rather than the disease, understand the medical problem holistically and recommend the best way forward with a multidisciplinary approach to ensure the best possible clinical outcome.
FREQUENTLY ASKED QUESTIONS
Want to find out more about the treatment? The answer to your questions can be found below.
Epilepsy, which is sometimes called a seizure disorder, is a disorder of the brain. A person is diagnosed with epilepsy when they have had two or more seizures.
How long do seizures usually last?
Usually, a seizure lasts from a few seconds to a few minutes. It depends on the type of seizure.
Epilepsy can be caused by different conditions that affect a person's brain. Some known causes include:
Stroke.

Brain tumor.

Brain infection from parasites (malaria, neurocysticercosis), viruses (influenza, dengue, Zika), and bacteria.

Traumatic brain injury or head injury.

Loss of oxygen to the brain (for example, during birth).

Some genetic disorders (such as Down syndrome).

Other neurologic diseases (such as Alzheimer's disease).
A seizure is a short change in normal brain activity.
Seizures are the main sign of epilepsy. Some seizures can look like staring spells. Other seizures cause a person to fall, shake, and lose awareness of what's going on around them.
What are the major types of seizures?
Seizures are classified into two groups.
Generalized seizures affect both sides of the brain.

Focal seizures affect just one area of the brain. These seizures are also called partial seizures.
How can I prevent epilepsy?
Sometimes we can prevent epilepsy. These are some of the most common ways to reduce your risk of developing epilepsy:
Have a healthy pregnancy. Some problems during pregnancy and childbirth may lead to epilepsy. Follow a prenatal care plan with your health care provider to keep you and your baby healthy.

Prevent brain injuries.

Lower the chances of stroke and heart disease.

Be up-to-date on your vaccinations.

Wash your hands and prepare food safely to prevent infections such as cysticercosis.

Dr's Talks