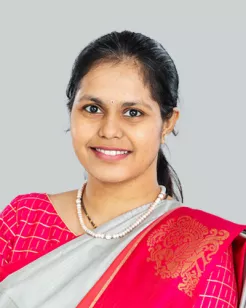 Dr. P Divya Reddy
Senior Specialist - Obstetrics & Gynaecology
MBBS, MS - Obstetrics & Gynaecology
Overview
Dr. P Divya Reddy is a Specialist in Obstetrics and Gynaecology at Aster Narayanadri Hospital. She completed her MBBS from the Vydehi Institute of Medical Sciences and Research, under Rajiv Gandhi University of Health Sciences, Bangalore 2009 to 2015. Later she completed her MS in Obstetrics and Gynaecology at Jawaharlal Nehru Medical College, Belagavi, Karnataka, from May 2016 to 2019. She completed her advanced infertility course under Dr. Kamini Rao from Milan Hospital, IIRRH, Bengaluru.
Work experience
She was a registrar at Max Super Speciality Hospital, Mohali, until September 2019.
She was Medical Officer from October to December 2019 at Government Multispeciality Hospital, Sector 16, Chandigarh.
She had an opportunity to work as a Senior Resident doctor from May 2020 to January 2021 at Sapthagiri Institute of Medical Sciences, Banglore.
Area of expertise
Fetal Medicine
Laparoscopy
Infertility and Artificial Reproductive Technique
High-Risk pregnancy
LSCS
Hysterectomy, both Abdominal Hysterectomy and Laparoscopic
Hysterectomy
DNC, Tubectomy, MTP
Vaginal delivery
Salpingo-oophorectomies for Ectopic Pregnancy
Lap Ovarian Cystectomy
Vulvoplasty
IUIs.
Other Similar Doctors