Overview
Kollam is about to witness a groundbreaking transformation in its healthcare landscape as Aster DM Healthcare, a renowned and leading quaternary healthcare provider in Kerala, joins forces with Padmavathi Medical Foundation Hospital. With a shared vision of delivering exceptional patient care, this collaboration will breathe new life into the already functional hospital, propelling it to greater heights under the brand of Aster PMF. The arrival of Aster PMF promises to revolutionize healthcare services in and around Sasthamcotta, raising the bar for clinical and non-clinical processes and introducing an influx of top-tier clinical talents.
The partnership between Aster DM Healthcare and Padmavathi Medical Foundation Hospital marks a significant milestone in the region's healthcare journey. The facelift planned for the hospital premises will align it with Aster Hospital's world-class standards, creating a state-of-the-art healthcare facility that prioritizes excellence, compassion, and innovation. Aster PMF is poised to introduce advanced medical technologies and cutting-edge facilities, enhancing the quality of patient care in Kollam district. From cardiology and orthopaedics to neurology and oncology, the hospital will offer a comprehensive range of specialized clinical services, ensuring that residents have access to a wide spectrum of healthcare expertise under one roof.

Be rest assured that the community can look forward to a future where exceptional medical care is easily accessible. Aster PMF is poised to play a pivotal role in ensuring the well-being and health of the community, leaving an indelible mark on the hearts and lives of the people it serves.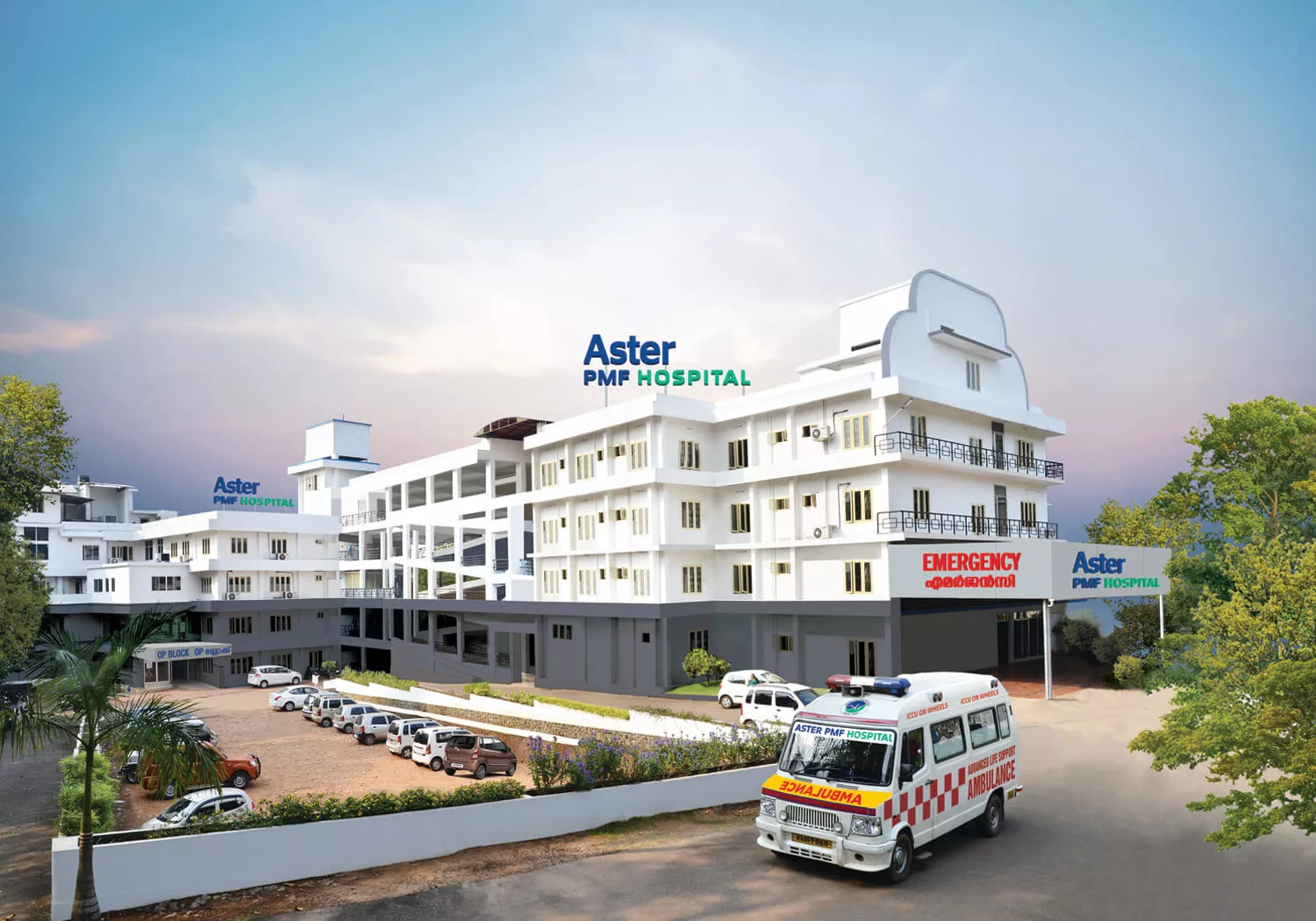 Address
Adoor Road, Sasthamkotta, Junction, Bharanikavu
Kollam, Kerala, 690521
Aster Centres of Excellence
Aster PMF Hospital, Kollam world-class, Centres of Excellence (COE) are an amalgamation of experienced doctors, state of the art technology, and the highest level of patient care and treatment. Our COE's ensure that every aspect of your care is seamless and the team of experts work together to provide the care you need.
Our COE = Best Clinical Experts + Latest Technology + Exceptional Patient Experience
Aster Specialities
Through our specialities, we provide in-depth expertise in the spectrum of advance medical and surgical interventions. Our specialities are integrated to provide a seamless experience.
We Provide Best Care
Aster PMF Hospital ensures to provide the highest quality of care and a transformative experience for all your healthcare needs. Our multi-specialty hospital equipped with specialized doctors, and world-class technology, bring global standards of medical care to our patients.
Places Nearby
While you are undergoing treatment at Aster, there is no reason that you cannot explore nearby attractions. Below are some of our must-visit recommendations.
Sasthamkotta Railway Station, Sasthamcotta
Approximate Travel Time: 11min
Kayamkulam Railway Station
Approximate Travel Time: 51min
Karunagappally Railway Station Bus Stop
Approximate Travel Time: 25min