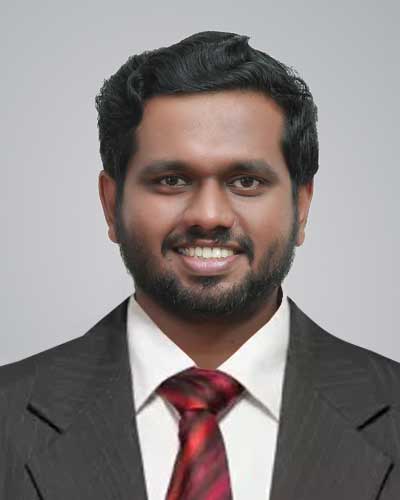 Dr. Gokul G Pillai
CMO - Emergency Medicine
Overview
Dr. Gokul G Pillai is a dedicated and compassionate medical professional with a profound commitment to patient care and well-being. With a specialization in Social Medicine and Community Health, Dr. Pillai has a comprehensive understanding of healthcare practices and their impact on the community. He completed MBBS from Nanchang University, Master of Public Health from Sree Chitra Tirunal Institute for Medical Sciences and Technology, Trivandrum and Master of Business Administration from Manipal University.
He is skilled in emergency resuscitation procedures, including endotracheal intubation for both adult and pediatric patients, central line insertion, and other critical interventions. Additionally, Dr. Pillai possesses expertise in performing basic orthopedic stabilizations, such as applying splints, slabs, closed manual reductions, and joint dislocation reductions.
Dr. Pillai's dedication to comprehensive patient care extends to managing wound care and debridement during minor surgical procedures. Dr. Pillai's commitment to continuous learning and professional development is evident through his certifications, including UGC NET in Social Medicine and Community Health, and BSAFE 2023 from the UN Department of Safety and Security.
Area of expertise
Endotracheal intubation
Central line insertion
Critical interventions
Orthopedic stabilizations
Other Similar Doctors