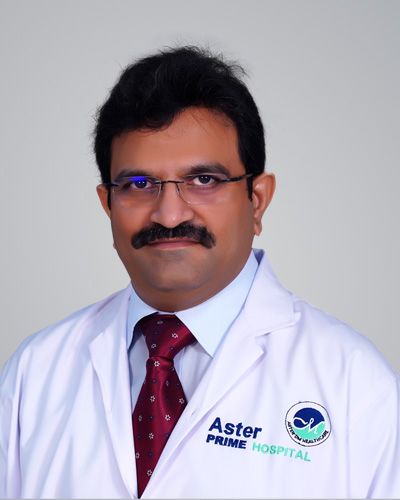 Dr. G Satish Reddy
Senior Consultant Orthopaedic & Joint Replacement Surgeon
Overview
Dr. Satish is the best Orthopedic doctor in Hyderabad and Orthopaedic Surgeon & Joint Replacement Surgeon at Aster Prime Hospital. He completed MBBS from Dr. M.G.R. Medical University (TNMGRMU) in 1994.
In 1998 Dr. Sathish completed his MS (Orthopaedics) from Sri Ramachandra University, Chennai. He was enrolled for Fellowship in Trauma, Adelaide, Australia in 2001, Fellowship in Joint Replacement and Sports Medicine from Flinders University, Adelaide, Australia in 2002, and Fellowship in Orthopaedic Oncology, Institute of Orthopaedics, Rizzoli, Italy in 2003.
Later, in 2005 Dr. Sathish completed his M.Ch Orthopaedics at Ninewells Hospital, Dundee, U.K.In 2017, he completed the Advanced Management Program in Health Care from Indian School of Business.
Dr. Sathish is a member of the Indian Orthopaedic Association, Asia Pacific Orthopaedic Association, Indian Medical Association (IMA), Tamil Nadu Orthopaedic Association, Association of Orthopaedic Surgeons of South India, Orthopaedic Surgeons Society Of Andhra Pradesh, Indian Arthroplasty Association, Indian Arthroscopy Association, and Member AO trauma.
Dr. Satish has won much recognition for his extraordinary achievements in the orthopaedic fields, such as The Rising Star of the Year in 2017 and  Nicholas Andrey Gold medal in 1998.
He is a top orthopedic surgeon who works at the best orthopedic hospital in Hyderabad.
Dr.Sathish started working as an orthopaedic surgeon at Prime Hospitals since 2007. Before joining Aster Prime, he was appointed as Orthopedic Surgeon at Yashoda Hospitals from 2003 to 2007 and as an Orthopedic Surgeon at Osmania Hospital from 1998 to 2001.
Work Experience
Dr. Satish Reddy has been the Vice President for the Association of Healthcare Provider of India, Hyderabad.
Dr. Satish Reddy also functioned as the Vice President for Telangana Superspecialities Hospital Association, Hyderabad.
He was Assistant Professor at Osmania Medical College, Hyderabad from 1998 - 2001.
During the tenure of 2004 - 2007, he was a Consultant Orthopaedic Surgeon at Yashoda Super Speciality Hospitals.
He was the Executive director and Consultant Orthopaedic Surgeon from 2010 - 2014 at Aster Prime Hospitals, Hyderabad.
Dr. Satish is the Managing Director and Consultant Orthopaedic Surgeon at Aster Prime Hospitals, Hyderabad.
Area of expertise
ACL reconstruction
Hip replacement
Knee osteotomy
Knee replacement
Joint replacement surgery
Physiotherapy for sports injury rehabilitation
Arthritis management
Fracture treatment
Joint dislocation treatment
Skeletal dysplasias
Bone trauma
Musculoskeletal infections
Knee pain treatment
Shoulder pain
Trauma surgery
Pelvis and acetabular surgery
Shoulder dislocations
Bone and soft tissue tumours
Awards and recognitions
Awarded "Nicholas Andre Gold Medal" for the performance during postgraduate training in orthopaedics.
Awarded a "Certificate of Merit" for the performance in the first-year general surgery university examinations during post-graduation.
Passed the General Knowledge and Intelligence Test conducted by the Central Institute of General Knowledge and Learning, New Delhi, India.
Fellowships
Smith & Nephew Australian Foundation Orthopaedic Surgical Trauma fellowship at Flinders medical centre. 2001
Villis.R. Marshal Arthroplasty and Arthroscopy Fellowship and overseas registrar at Flinders Medical Center. 2002
Orthopaedic Oncology Fellowship at Instituto Ortopedico Rizzoli in Bologna, Italy. 2003
Orthopaedic Oncology Fellowship at The Royal Orthopaedic Hospital, Birmingham, U.K. 2004
Research Activities
Dr. Satish Reddy has numerous publications, presentations and guest lectures in International, a national and state-level forum for Orthopaedics.
Dr. Satish Reddy has been a faculty in a number of state and national level conferences, such as Accredited Faculty for AO trauma.
Professional Memberships
AO Trauma. 
Asia Pacific Orthopaedic Association.
Indian Orthopaedic Association.
Indian Society for Hip and Knee surgeons.
Indian Arthroplasty Association.
Indian Arthroscopy Society.
Orthopaedic surgeons society of Andhra Pradesh.
Orthopaedic Association of South Indian states.
Tamil Nadu Orthopaedic Association.
Other Similar Doctors