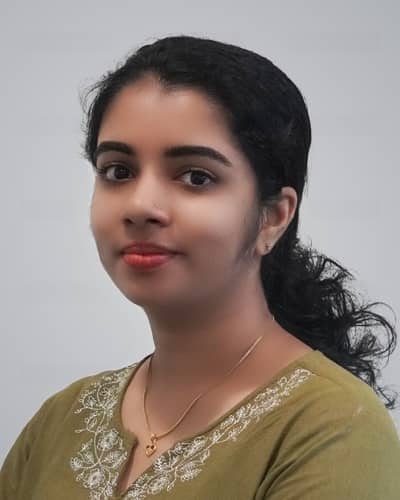 Dr. Deena K Vargese
Clinical Psychologist
M. Phil Clinical Psychology (IMHANS)
Overview
Dr. Deena K Vargese is the Clinical Psychologist at Aster MIMS Kannur. She had received Intensive Clinical Supervision and training in psychometric assessments (IQ Assessment, Learning disability assessment, Assessment of Autism, Personality Assessments, Projective tests, Neuropsychological evaluation etc.) along with various therapeutic approaches. Her therapeutic expertise lies in psychodynamic psychotherapy, cognitive behavioral therapy, parent management training, couple therapy and family therapy. She had been offering clinical services to individuals from all age groups dealing with mental health issues like mood, anxiety, addiction disorders, personality disorders as well as marital and family adjustment problems. 
Area of expertise
Psychometric Assessments 
Child & Adolescence guidance
Adult counselling & psychotherapy
Couple & Family therapy
Parent management training
Awards and recognitions
She had qualified UGC NET in Psychology, December 2019. 
She had completed her certificate course in psychoanalytical study group and creative movement therapy from Christ University Bangalore.
She had published and presented various research papers in International journals and at National and international conferences.
Other Similar Doctors