Overview
Aster RV is a part of the DM Healthcare chain, established to provide world-class, patient-centric centres, driven by medical innovation and culture of excellence. The state-of-the-art super speciality hospital is 250 bedded and offers comprehensive primary care to quaternary care services, with centres of excellence in Cardiac Sciences, Neuro Sciences, Gastro Sciences, Orthopedics, Organ transplantation, and minimally invasive surgeries backed by high-end critical care and emergency medicine. Aster RV has best in class infrastructures and technology like Biplane Cath lab, Intra operative MRI and Da Vinci Robot. Aster RV also has a 53 bedded ICU.

Aster RV is committed to offering care and compassion to our patients with advanced facilities by creating a positive ambience to heal. In a nutshell, Aster RV stands out from the rest of the peer hospitals on the hospitality front.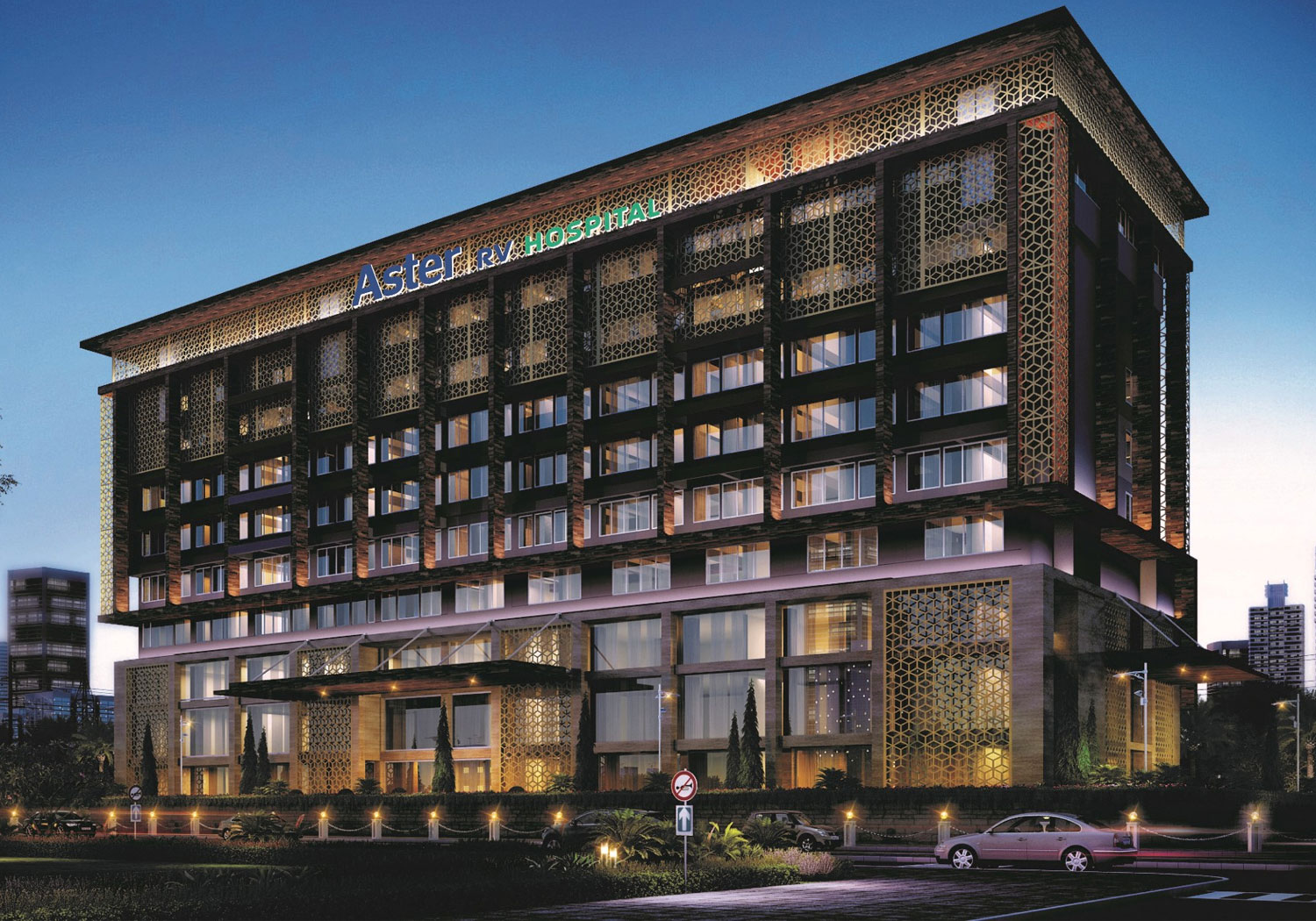 Address
CA-37, 24th Main, 1st Phase, J.P.Nagar
Bengaluru, Karnataka, 560078
Why Choose Aster RV Bangalore
We have a unique portfolio to serve the needs of patients in Primary, Secondary, Tertiary, and Quaternary Care, Pharmacy, Diagnostic Labs, and Digital Health. Our wide-ranging services make us accessible to each patient who walks through our door.
Aster Hospitals have been a long-time pioneer in personalized health care. Our well qualified, compassionate, experienced, and trained nurses, technical team, and support staff provide the best circle of care. This ensures high standards of care delivered to you with a human touch for you to get well soon.
Good clinical outcomes start with the right diagnosis. Our multi-disciplinary approach does just that. Our team of specialists will listen to your needs, evaluate your condition and collaborate with different specializations on complex cases, to come up with the right treatment plan. Patients are provided with multiple treatment options, the most suitable of which is arrived at after through a cross-function, cross-specialization committee such as the Tumour board that decides the best course of action.
In these unprecedented times, your safety is our prime concern so, that is why we adhere to strict infection control protocols to make your every visit safe and stress-free.
We adhere to ICMR and WHO mandated guidelines-
Surfaces and equipment are thoroughly cleaned and disinfected regularly
We clean our waiting rooms frequently.
Our exam, procedure, treatment, and operating rooms are cleaned and disinfected frequently, including before and after each patient
Alcohol-based hand sanitizer is available at all touchpoints
At Aster RV Hospital, we provide professional, transparent, and hassle-free service. Our dedicated team of international coordinators assists overseas patients seeking a consultation, a second opinion, or medical treatment.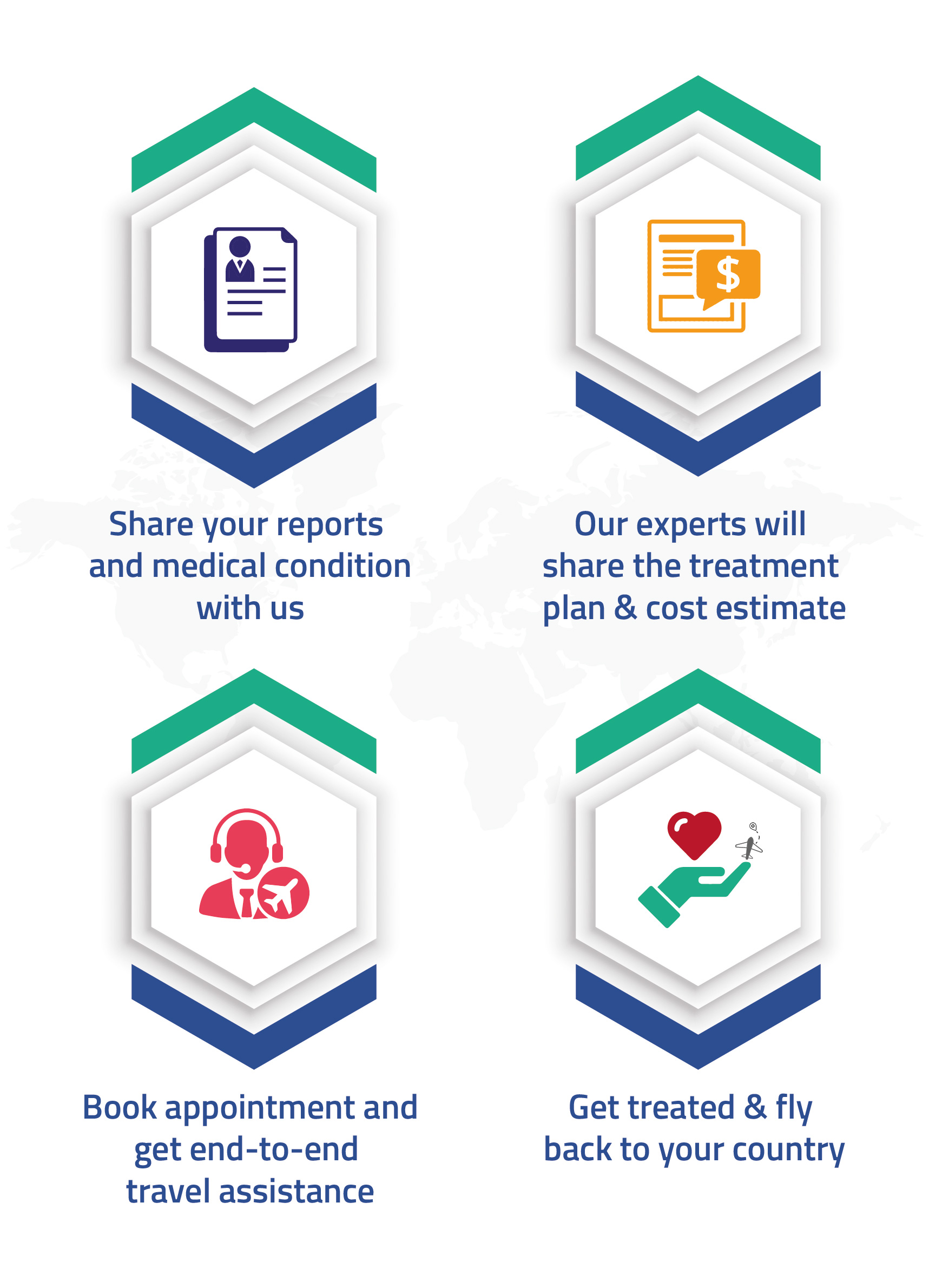 Places Nearby
While you are undergoing treatment at Aster, there is no reason that you cannot explore nearby attractions. Below are some of our must-visit recommendations.
Kempegowda International Airport
Approximate Travel Time: 85min
Bangalore City Railway Station
Approximate Travel Time: 40min
Approximate Travel Time: 5min
JP Nagar 2nd Phase Bus Stop
Approximate Travel Time: 3 min
Why Choose Aster RV Bangalore
Want to find out more about Aster Hospitals - India? The answer to all your questions can be found below.
What is the process of booking appointments?
Our International Patient Coordinator will liaise between you and the hospital. He will arrange your appointments as well as coordinate for various services like the outpatient clinic, laboratory, and pathology, medical imaging, and in-patient surgical procedures, etc.
What are the facilities for international patients?
Airport pickup & drop facilities

A local sim card will be provided to you upon your arrival

VISA / FRRO assistance

Language interpreters

Foreign Exchange conversion at the hospital

In-room colour television & cable connection

Complimentary Wi-Fi 

Complimentary stay in your room for one attendant

On-demand special arrangements can be made to fulfil specific religious or dietary needs

Regular updates for your referring doctors & family
How to get a medical opinion, so accordingly I can plan my visit?
You can share your medical case history / current clinical reports / scans & details of previous treatment with us. Our team of expert doctors will evaluate and provide the cost and treatment plan before your arrival.
What are the modes of payment acceptable at Aster?
At the time of admission, payment can be made through cash/credit cards.

Authorised Foreign currency exchange counter is available in-house

The payments can also be transferred directly to the Hospital's account through wire transfer before the arrival or through traveller's cheque. On discharge, any excess amount will be refunded to you and any shortfall will have to be paid in cash.
Do you provide accommodation & meal to the patient's attendant?
Yes, the attendant can stay with the patient in the room (except ICU stay).  We also provide complimentary meals to the attendant.
Can I get an estimate for my treatment?
You can get an estimate for our International Patient Coordinator.
The patient coordinator will help you with financial details before, during and after the visit. Services offered usually include providing deposit and payment information, estimates and price updates for medical services, and communication with medical insurance companies or third parties on behalf of a patient.
What kind of documents should I bring to my appointment?
A list of your current medications, and the dosage for each. You can also bring vials or containers with you to your first appointment.

If requested, any medical information and radiology images (including written radiology reports) that your local doctor has given you.

Any forms you have been asked to provide.

Name, address and phone number of the referring physician if applicable.

Information about your medical insurance, if you have private insurance.

Passport size photograph of patient and attendants
Do you provide medical visa support?
Yes, we do provide visa assistance letter after receiving the passport details of the patient and attendant(s), date of travel to enable in obtaining the medical visa.
Note - If you are travelling on a medical visa, you are required to register at the Foreigners Regional Registration Office within 14 days of your arrival. Your patient coordinator will help you with all these formalities
• Patients from Pakistan & Bangladesh are required to register with the nearest Police Station or Police Commissioner's office within 24 hours of arrival Refer to your Visa/Transit document,
Do you assist with airport transfers to international patients?
Yes, we provide complimentary pick / drop from / to airport to international patients. We organise the pickup on receiving the patient's travel details.
Do you help with booking the accommodation?
We have a tie-up with hotels / guest houses / service apartments in the vicinity of the hospital for our international patients. We share the list of the same in advance with our patients. They can do the booking directly or let us know to do the same on their behalf.