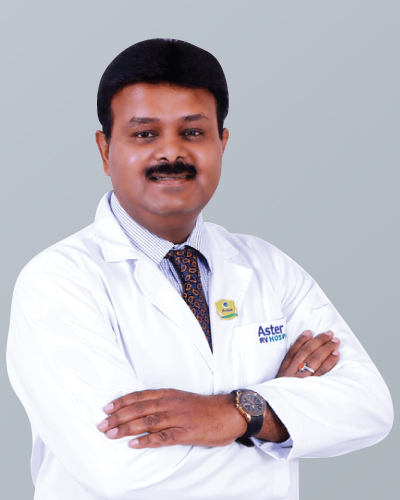 Dr. Manjunath Malige
Lead Consultant - Endocrinology & Diabetes
MBBS, MD, MRCP (UK), MRCP (Endo), CCT, FRSM, FACE
Overview
Dr. Manjunath Malige is the Chief and Senior Endocrinologist and Diabetologist at Aster RV Hospital. Before joining Aster, he was Chief and Senior Consultant in Endocrinology, Diabetes, Sports Diabetes, and Bariatric Medicine (weight management ) at Fortis Hospital, Bengaluru.
Dr. Manjunath is an eminent and highly experienced Endocrinologist and Diabetologist. He holds memberships of various International Endocrine and Diabetes associations including the British Endocrine Society, American Endocrine Society, American College of Endocrinology, and Diabetes UK.
After his graduation in Medicine, he pursued his M.D in Internal Medicine from the prestigious Bangalore Medical College. Following this, Dr. Manjunath moved to the United Kingdom to pursue advanced and higher training in endocrinology, diabetology and internal medicine. He has been successful in obtaining MRCP from Edinburgh and MRCP (Endocrinology) from the Royal College of Physicians London. He underwent extensive super-speciality training in Endocrinology and Diabetology in various Internationally acclaimed university teaching hospitals in London, Manchester, Liverpool and Scotland. Following this, he successfully obtained the Certificate of Completion of Specialist Training (CCST) from the Joint Royal College of Physicians Training Board in London, UK.
Dr. Manjunath Malige has expertise in diagnosing and managing various types of diabetes including Gestational Diabetes (diabetes during pregnancy), Diabetes-related complications and various hormone abnormalities including those of the Thyroid, Parathyroid, Pituitary and Adrenal glands. He is competent in managing patients with complicated Diabetes and endocrine conditions and Endocrine Cancers particularly thyroid and adrenal cancers. Dr. Manjunath is also specially trained and competent in diagnosing and managing Osteoporosis (brittle bone disease), having had the opportunity to work at the Osteoporosis and Metabolic Bone Disorder Clinic at Central Manchester Foundation Trust. He has a special interest in managing Diabetes in individuals taking part in various recreational and competitive sports.
Dr. Manjunath also had extensive training in initiating Insulin Pump treatment and subsequent follow-up. He also has been an educator and trainer for doctors, Diabetes specialist nurses and paramedical staff regarding Diabetes and Endocrinology. He is also a certified educator for DAFNE (insulin dose adjustment for normal eating). He has a special interest in Sports Diabetes (management of Diabetes in individuals taking part in various sports). He has various presentations and publications in Internationally reputed journals and meetings. Prior to relocating to India, he has worked as a consultant in Endocrinology and Diabetes at Aintree University Hospital in Liverpool, Lancashire Teaching Hospitals in Preston, Russells Hall Teaching Hospital at Dudley, Warrington General Hospital, and University Hospital of South Manchester. In recognition of his achievements in endocrinology and Diabetes, Dr. Manjunath Malige has been awarded the Fellowship of American College of Endocrinology.
Training Courses Completion:
King's Fund Management Course(London )
DAFNE Doctor Programme( Manchester )
Fundamentals of Medical Leadership Course(Manchester )
Community Diabetes Course(London )
Clinical Endocrinology Update(Manchester )
Advanced Insulin Pump Course( Bristol )
Advanced Life support course( Blackburn )
Teaching the Teachers Course(Manchester )
Thyroid Ultrasound Course (London)
Osteoporosis and Metabolic Bone Disease Course( Bristol )
Audit  and Research work:
Diabetes  In-reach Inpatient audit Presented to Diabetes team, Aintree University Hospital, Liverpool
Chest Drain Audit Presented at Royal Bolton Hospital in August 2009
Audit of Diabetes Ketoacidosis Management Presented at Blackpool Victoria Hospital in July 2008
G-CSF Use in the treatment of Infected Diabetic Foot Ulcers Presented at Royal Lancaster Infirmary in September 2007
Clinical Coding Audit  Presented at Royal Lancaster Infirmary in March 2007
PEG Tube Insertion Audit Presented at Royal Preston Hospital in January 2005
Presentations - International:
Diabetes – Recent advances in Diagnosis November 2015, Aintree University Teaching Hospital, Liverpool, U.K
Inpatient Diabetes Management – Challenges and Strategies – Aintree University Teaching Hospital, January 2012
Type 2 Diabetes – Recent advances in Management – November 2013, Royal Preston Hospital, Lancashire Teaching Hospitals, U.K
GLP 1 analogues - For Who and Why? February 2013, Royal Preston Hospital, Lancashire Teaching Hospital, U.K
Management of Complicated Diabetes – Wythenshawe University Hospital, Manchester, U.K
Diabetes Foot Care – September 2012, Warrington Hospital, U.K
PTHrP in the treatment of Primary Hyperparathyroidism – September 2010, Central Manchester Foundation Trust, Manchester, U.K
Klinefelter Syndrome – Diagnosis and Management –August 2005, Royal Blackburn Hospital, U.K
Presentation of study findings – Use of G-CSF in the treatment of diabetic foot ulcer- October 2005, Royal Lancaster Infirmary, Lancaster, UK
Successful use of Thalidomide in the treatment of Adrenal Carcinoma – January 2006, Presented at Clinical Cases Meeting at the Royal Society of Medicine
Presentation of Audit Data – Management of Diabetic Ketoacidosis in a District General Hospital (Blackpool Victoria Hospital ) – February 2008, Diabetes UK Annual Conference
Presentations - India:
Designated Chief Speaker and session Moderator – Diabetes – Indian Perspective, complications and management – October 2016 – Indian Medical Association, Bangalore
Diabetes for the common man – September 2016 – SAP Technologies Auditorium, Bangalore
In Hospital Hyperglycemia Management – September 2016, Fortis Hospital, Bannerghatta Road, Bangalore
Recent Advances in the Management of Diabetes – November 2016, Fortis Hospital, Bannerghatta Road, Bangalore.
Hypoglycemia- common causes and appropriate management – Fortis Hospital, Bannerghatta Road, Bangalore
Use of Basal Plus Insulin regime – Bangalore, January 2017
DPP4 Inhibitors in Diabetes – KAPICON, Mysore May 2017
Demystifying Vitamin D -  Fortis Hospital, October 2017
Dulaglutide use in Type 2 Diabetes – Bangalore, January 2018
Management of Thyroid Disorders in Pregnancy – Bangalore, March 2018
SGLT2 Inhibitors and Heart Failure – Bangalore, June 2018
Mixed Insulins – When and Where to use  - KRSSDI, Mysore Oct 2018
Sulphonylureas and Diabetes – Time to revisit – Bangalore, January 2019
Diuretics in Hypertension management – Pros and Cons – Bangalore March 2019
Poster Presentation:
Glucagonoma – A rare cause of Diabetes Presented at the Association of British Clinical Diabetologists held at London in November 2006
Successful Treatment of Adrenocortical Carcinoma by Thalidomide. Society for Endocrinology Clinical Cases Meeting (Royal Society of Medicine) in February 2008
Audit of DKA management in a District General Hospital Presented at Diabetes UK 2009
Acute Fatty Liver due to poor diabetes control in type1 Diabetes Mellitus  Presented at the British Endocrine Society Conference – 2010
Lithium-Induced Hypercalcemia  Presented at British Endocrine Society Conference – 2010
Panel Member for Clinical Protocol Development:
Inpatient Diabetes Management Protocol – November 2011, Aintree University Teaching Hospital, Liverpool, U.K
Diabetic Ketoacidosis Management Protocol  - September 2013, Royal Preston Hospital, Lancashire, U.K
Hyperglycemia Hyperosmolar State Management Protocol – March 2012, Aintree University Teaching hospital, Liverpool, U.K
Protocol for Initiation of GLP-1 analogues in Type 2 Diabetes management – March 2012, Aintree University Teaching Hospital, Liverpool, U.K
Protocol for SGLT2 inhibitor initiation in Type 2 Diabetes Management – September 2013, Royal Preston Hospital, Preston, UK
Protocol for initiation and titration of Dulaglutide in type 2 Diabetes patients –February 2015, Aintree University Teaching Hospital, Liverpool, UK
Panel member for writing National Guidelines for Insulin use in CKD patients – New Delhi, India, November 2016
Publication:
Glucagonoma – A rare cause of Diabetes
Published in Practical Diabetes – March 2007