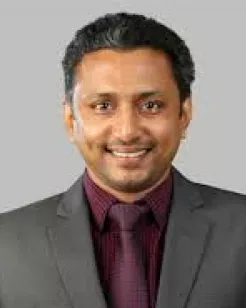 Prof. Dr. Pramod Subash
Consultant - Cranio-maxillofacial Surgery (Visiting)
BDS, MDS (Cranio-maxillofacial)
Overview
Dr Pramod is American Board certified Cranio-facial surgeon with over 15 years of experience in the field of Cranio Maxillofacial Surgery at prominent hospitals in Maryland, USA, the UAE & India. He has practiced as a Consultant, Cranio Maxillofacial Surgery and Clinic Professor & Chief of Cranio Maxillofacial Surgery Department.
Dr. Pramod has completed Bachelors of Dental Surgery followed by Masters of Dental Surgery from A B Shetty Institute, Mangalore University, India. In addition to American Board of Certification in Oral & Maxillofacial Surgery, he has attained DNB certification in Cranio facial surgery from New Delhi, India and further attained Member of Oral & Maxillofacial Surgery from the Royal College of Physicians and Surgeons, Glasgow, UK.
His areas of special skills includes Cranio-maxillofacial surgery (management of craniosynostosis and craniofacial syndromes), Facial Deformity correction surgery, Navigation Assisted management of facial trauma and craniofacial deformities, Minimally Invasive (Endoscope assisted) Cranio-Maxillofacial surgery and TMJ Disorders & TMJ Arthroscopy.
Area of expertise
Congeoital

&

acquired

facial deformities

Primary

and secondary

craniofacial trauma

 

Benip

pathology of

Head

&

Neck region

Obstructive

sleep apnea

Disorders

Dental implants

and

advanced pre

orosthetic

surger-v

TMJ

Disorders

and

TMJ

Arthroscopy
Awards and recognitions
Set up the state ofart Craaio-maxillofacial surgery and Hospital based dentistry sewices at
Narayana Hrudayalaya Multispecialty Hospital, Bangalore.
Founding member of the organization F.A.S.T (Foundation for Advanced Surgical Training) which aims to impart hand-on training to sugeons at all levels in latest and innovative surgical techniques.
Administrative responsibilities associated with the Cranio-maxillofacial Surgery and hospial based dental services at Narayana Hrudayalaya Multispecialty Hospital, Bangalore.
Program director of advanced Cranio-maxillofacial surgery fellowship program affiliated to Raj iv Gandhi University of Health Sciences, Bangalore and run by Narayana Hrudayalaya Multispecialty Hospital, Bangalore.
Consultant in Charge ofthe Cranio-maxillofacial and Hospital based dentistry services at Narayana llrudayalaya Multispecialty Hospital, Bangalore.
Helped set up and run the cleft & craniofacial swgery / hospital based deotisry services at Amrita Institute of Medical sciences.
Helped formulate the undergraduate acaC.emic schedule for undergraduate dental surgery course at Amrita Vishwa vidyapeetham, Deemed University, Kerala.
PUBLICATIONS
Factors

affecling oral

cancer

swareness

in

a

high-risk

population in India,

Asian

Pac

J

Cancer Prev. 2009

OcrDec;

10(4):627-30.  

Elango

J

K,

Sundaram

K

R. Gangadharan

P, Subhas P, Peter

S,

Pulayath C,

Kuriakose

M A.

Three-dimensional

con

puted

tomogruphy-based

contourine

of

a

-free

fibala

bone

gruft

for

mandibular

reconstruction,

J

Oral

Maxillofac

Surg.2008

Oct;66( l0):21 85-92.

Thankappan

I!

Trivedi

N

P,

Subash P,

Pullara

S

I!

Peter

S,

Kuriakose

M

A, Iyer

S.

Airway

managemOnl

during

second-stage tongue

flap

procedure,

Aresth

Analg

2007 Jan;104(1):

217.

Peter S, Subash P,

Paul

J.

Distraction

Osteogenesis

for

airway

managernenl

in

Treacher

Collins

syndrome,

Subash P,

Peter

S,

Kuriakose

M

A. Amrita

Journal

of Medicine

Vol

2

(l)

2006,33

-

35.
Other Similar Doctors