Multi-Organ Transplant
Aster Medcity is one of the best hospital for organ transplant in Kochi which is a dedicated facility for liver, kidney, heart and bone marrow transplant in both adults and children.
​What is Organ Transplant?
Organ transplant, as the name suggests, is replacing one's diseased organ like liver, heart etc. with healthy donated organ.There are two types of transplant: Solid Organ Transplant and Bone Marrow Transplant/ Peripheral Blood Transplant.Solid Organ Transplant is replacing organs like the kidney, liver, pancreas, heart, lungs and small intestine. Bone Marrow / Peripheral Blood Transplant are non-surgical procedures that involve infusing healthy blood cells to replace the diseased cells.
We know when prayers are answered. Which is why we have an outstanding team of doctors working dedicatedly to ensure that the gift of life is delivered as safely and securely as possible. All in a quiet, soothing environment, overlooking the backwaters of Kochi.​
Why are we the best?​
Each transplant programme at the Aster Multi-Organ Transplant is headed by an outstanding team of doctors comprising experts from various subspecialities. They work with a multidisciplinary approach to provide high-quality, specialised care to patients and ensure the best possible outcome.
Award-winning nursing care​
We have an NABH award-winning team of ACLS/ PALS/ BLS certified nurses who are trained to provide expert care to patients who have undergone transplant. They lend efficient support to our team of doctors and ensure each and every patient is taken good care of; and gets back to normal life as quickly as possible.
Trained Support Staff​
Our support team comprising Nutritionists, Psychologists, Counsellors, Rehabilitation Professionals, Physical Medicine experts and Technicians ensure patients are given assistance and guidance to get back to their normal life.​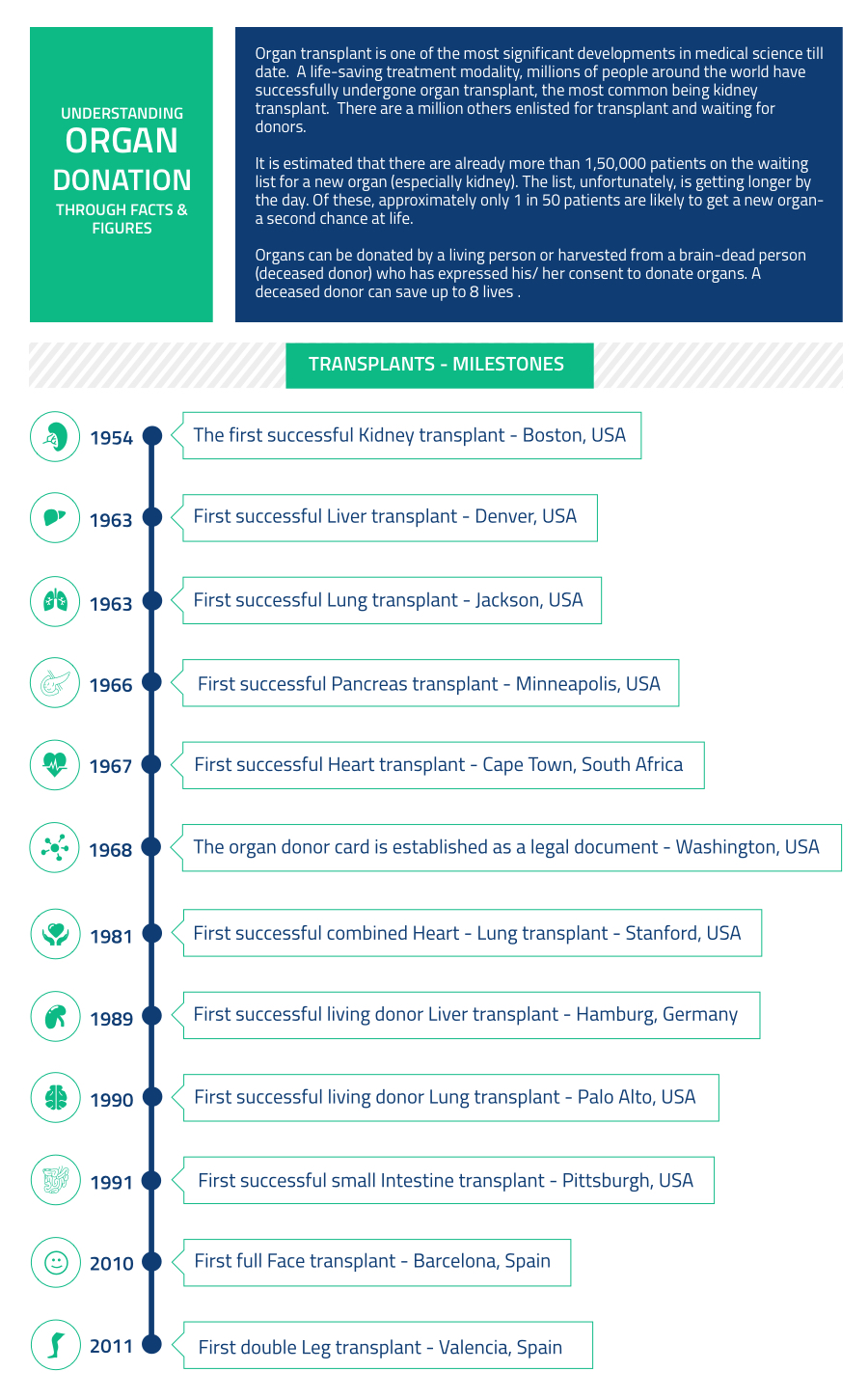 How does one get the organ for transplantation from?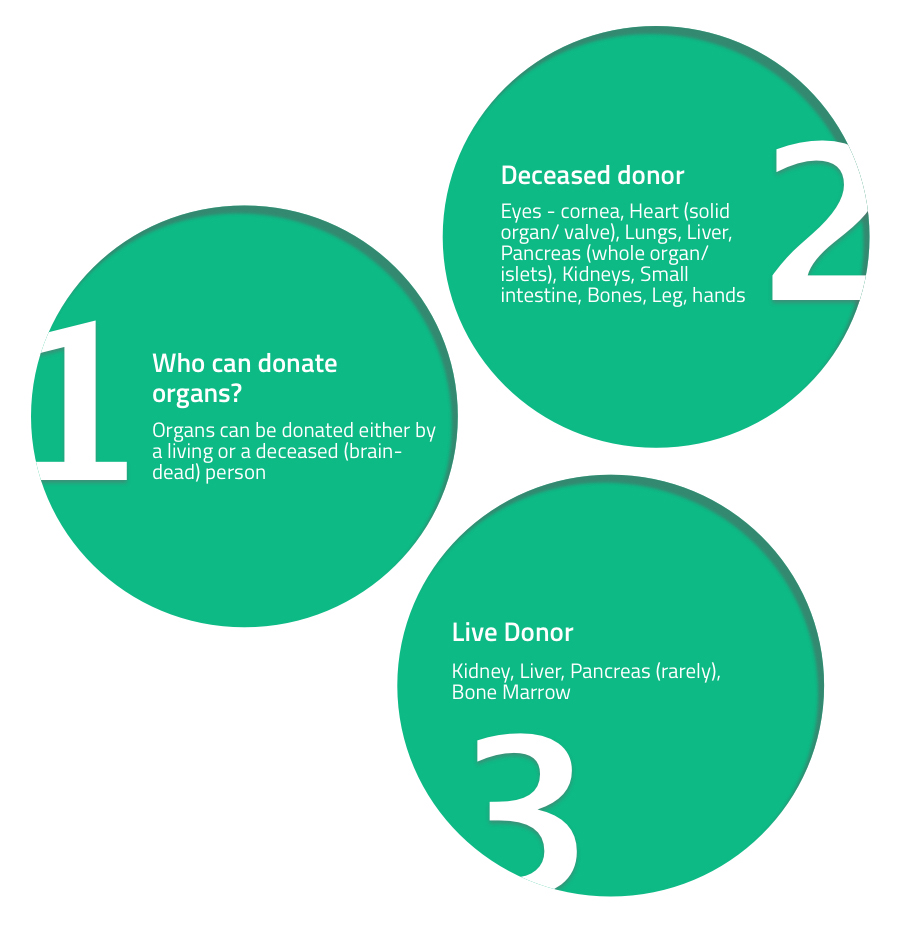 Patients who need to undergo transplant are generally enlisted on the recipient waiting list of an organ-sharing network, based on body and blood type and severity of the condition. As soon as a suitable organ is received, the concerned hospital is intimated and they get ready for transplant surgery.
There are live donor organ sharing networks where people donate organs out of their own will; and the most suitable recipient is chosen.
If the patient has his/her relative donating the organ, it is Live Related Donor Transplant; and if it is someone outside the family that's donating, it is Live Unrelated Donor Transplant.
Transplant means much more than just the surgery. It's an extensive, life-long treatment modality that's adopted only when medical management of the condition is no longer possible. There are many phases/ steps to an organ transplant procedure.
Once it is decided that transplant is the only way forward, the patient needs to undergo a series of pre-transplant tests/ investigations to see if he/she is fit enough for a transplant surgery and whether there are any other major illnesses or complications.
The body type and blood type are ascertained and the patient is enlisted on the organ sharing network's recipient list. If a suitable donor is available, the patient gets the organ based on his/ her medical condition and age.
To register in the 'Kerala's Deceased Donor Organ Transplantation Program click here.
Life After Organ
Transplant Undergoing an organ transplant is a life-changing procedure. Simply put, it's a second chance at life and one needs to be really careful in order to ensure a healthy, good quality life. The possible complications post-transplant include infection, rejection and blood loss.Understandably, a person who has undergone a procedure that's as complex as an organ replacement will be highly susceptible to infections.
Infection
We have the most advanced infection control facilities and systems to minimise spread of infections and ensure a safe, sterile environment for the patient to recuperate. Even after discharge from the hospital, one needs to remember that he or she should be extremely careful and minimise exposure to infections as much as possible.
Rejection
The human body is programmed to reject what it deems is not a part of it. One of the biggest post-transplant risks is the immunity system rejecting the new organ. The patient will be given immunosuppressants (medicines that suppresses one's immunity so that it does not fight the transplanted organ) to combat this problem. The immunos uppressant should be taken every single day, for life, without fail as rejection can set in any time.
Follow-up
Remember, an organ transplant isn't just a surgery. It's an exhaustive, life-long treatment modality; and the patient will be responsible for his own wellbeing.One needs go for regular check-ups to the transplant team, undergo all blood/other tests as prescribed and follow every single instruction carefully.
Healthy
Life It's very, very important to maintain a healthy lifestyle after the transplant. One may need to change his or her lifestyle completely and follow a healthy regime including eating right, maintaining personal hygiene and exercising regularly. Compromising on even a seemingly insignificant thing may pose a huge threat to life .
Life after organ transplant is a new life, a rebirth in every sense. And a second chance at life is not something everyone gets. One needs to treat this blessing with utmost respect and care by taking good care of his or her health. It is also about expressing gratitude to the person who was selfless enough to share a part of his or her life by donating the organ.
To know more
To know more about our Transplant Programmes, visit our Centre of Excellence in Organ Transplant at astermedcity.com. And discover how we live up to our simple promise: We'll Treat You Well.
To know more, call us at: +91 8111998076
For International Enquiries:
OMAN
Ahmed Estih,
+968 – 93212154
[email protected] UAE Sumesh
Nair
+971– 529902212
[email protected]
KENYA Geoffrey Nato
+254 – 721174628
[email protected]
UGANDA Elyse
+256 – 754285247
[email protected]
Aster Medcity is a 670-bed JCI and NABH accredited quaternary care facility with one Multispeciality Hospital and eight Centres of Excellence.
Services
We provide comprehensive treatment for all types diseases under one roof. Our highly experienced doctors supported by especially trained clinical staff, ensure the best care for you.
Facilities
Well equipped with the latest medical equipment, modern technology & infrastructure, Aster Hospital is one of the best hospitals in India.
Operation Theatres
ORI Fusion Digital Integrated Operation Theatres With 22 Operating Rooms that are on par with some of the largest in the world, Aster Medcity, for the first time South India, introduces ORI Fusion Digital Integrated Operation Theatres using Karlstorz OR1 Fusion - Asia Pacific's first complete digital integration system.
The integration enables real-time sharing of images, videos and medical reports, which not only facilitates virtual participation from any location in the world but also helps the rest of the surgical team to monitor the patient closely during the operative procedure, much to the benefit and safety of the patient undergoing the surgery.
Aster Medcity is also the first surgical facility in the state to offer Robotic Surgery using a high-precision da Vinci Surgery Robot.
Advanced Features
PACS, HIS, and video recording integrated for single monitor control by Surgeons
Each Operating Room has 3 cameras and 6 monitors for Doctors to monitor patient parameters and the surgical procedures
Operative procedures can be transmitted live to various locations within and outside the Hospital
Facilities for interactive sessions during operation through live transmission of the procedure
Doctors can join the Surgical team and monitor the patient from any location outside the hospital
Da Vinci Surgical Robot for performing minimally invasive Robotic Surgery
State-of-the-art engineering techniques to maintain positive pressure within operating rooms along with heap filters to reduce infections
Individual air handling unit for each Operating Room
Equipped with Isocentric C Arm
Advanced facilities to monitor including depth of Anaesthesia, Neuromuscular Monitoring, Transcranial Doppler and 3D Echocardiogram
High-end Anaesthesia workstation with precision delivery of Anaesthetic gases
Autopilot facility Anaesthesia machines
Capability to export information to all ICUs within the hospital
Induction bay with facilities for parents to be with children during induction of Anaesthesia
As all Operating Rooms here are approximate of the same size, they can accommodate a variety of equipment- surgical, as well as those for ensuring the safety and protection of the patient
Stringent Infection Control measures followed under the surveillance of experienced Doctors

Anesthesia Team
Perioperative anesthetic care
Anesthesia for solid organ transplant
Invasive monitoring of deep hypothermic circulatory arrest and associated techniques
Anesthetic support for SSEP and MEP
Anesthesia for infants, neonates, and children
Anesthesia for craniofacial reconstructive and cosmetic surgery
Labor analgesia and obstetric Anaesthesia
Regional anesthetic techniques with ultrasound and PNS
Transesophageal echocardiography
Fiber optic bronchoscopy
Difficult intubation maneuvers
Intar aortic balloon support
Inotropes vasodilators and vasopressors
ECMO and LVAD assistance
Neuro monitoring: BIS, NIRS, neuromuscular monitoring, TCD
Special anesthetic techniques for awake craniotomies
Blood conservative measures
Seamless Team Work
The ORI Fusion Digital Integration system in the Operating Rooms helps create a workflow that's seamless by enabling virtual participation of Doctors in the procedure, from whichever part of the world they are in at that point in time. As all medical reports and image modalities including the operation procedure can be transmitted live to any location inside or outside the hospital, Doctors can become a part of the Surgery Team on a real-time basis, wherein they can interact with Surgeons in the OR, closely monitor the procedure as well as patient parameters and contribute their expert suggestions.
Karl Storz OR1 Fusion Technology
Single monitor control enabled through integration of PAC, HIS & Video Recording
Live to share all image modalities & medical reports
3 cameras and 6 monitors in every OR.
Waiting Lounge
Aster Medcity understands that the time of surgery is stressful for the family of the Patient as well, which is why the bystander's waiting lounge has been designed in such a way that it provides a calming, comforting ambiance
Scenic view of the backwaters from the visitor's lounge, Recliner Chairs, Cafeteria
Guest Relation Team who updates the bystanders on patient's progress at regular intervals and ensures a warm, hospitable atmosphere.
Patient Stories
Our patients are our best advocates, hear the inspiring stories of their treatment journey
Blogs
The source of trustworthy health and medical information. Through this section, we provide research-based health information, and all that is happening in Aster Hospital.