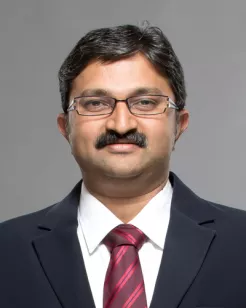 Dr. Prateek Nayak
Consultant - ENT Surgery
Overview
Dr. Prateek P Nayak, ENT, Head & Neck Consultant with more than a decade of experience in the field of Otorhinolaryngology and Head and Neck Surgery. He is a graduate from the prestigious All India Institute of Medical Sciences [AIIMS] New Delhi, the apex premier Medical Institute in India.

Dr. Prateek has been trained in various advanced ENT procedures, including the highly skilled surgery of cochlear implantation both in India and Europe [Italy and France]. He has vast experience in the field of rhinology including allergy treatment and Endoscopic, LASER and Microdebrider Surgical Procedures for Sinonasal diseases. His areas of expertise include Minimally Invasive and Microscopic Middle Ear and Mastoid Surgery, Endoscopic Endonasal and Skull Base Surgeries including Endoscopic CSF leak repair, Endoscopic Pituitary Surgery and other Neuro-otological procedures.

Dr. Prateek's areas of special interest include Cosmetic Otolaryngology encompasses a wide variety of procedures such as Lobuloplasty [Ear Lobe Repair], Rhinoplasty, Septorhinoplasty, and Otoplasty. Dr Prateek Nayak is an experienced Head and Neck Surgeon with expertise in resection of benign and malignant head and neck tumours and reconstructive surgery including free flap reconstruction. Dr Prateek is well versed with the latest state of the art advanced surgical techniques such as LASER Otolaryngologic Procedures, Microdebrider aided surgeries and Scarless Endoscopic procedures.
 
Experience:
He was a registrar at Manipal Hospital, Bangalore from April 2004 to June 2004.
He was a Senior Registrar MS Ramaiah Medical College, Bangalore from June 2004 to Jan 2005.
He was a Lecturer MS Ramaiah Medical College, Bangalore from June 2004 to Jan 2005.
He was a Consultant MS Ramaiah Memorial Hospital, Bangalore from Jan 2005 to July 2006.
He was a Consultant at Columbia Asia Hospital, Hebbal, Bangalore from 2005 to 2010.
He was a Consultant at Nova Specialty Surgical Center, Bangalore from 2011to 2013.
He was a Consultant at at Mallya Hospital, Bangalore from 2012 to 2014.
He has served as a Consultant in Vikram Hospital, Bangalore.

Academic Proficiency And Courses Attended:
First Class in all MBBS exams.
Received National Merit Scholarship from 1990-94.
Training in Free Flaps at Amrita, Kochi.
Training in Cochlear implantation in France.
Hands-on training in Cochlear implantation in Italy.
Hands-on training in LASER voice surgery and thyroplasty at Pune.
Area of expertise
Endoscopic sinus surgery Micro-ear surgery Skull base Surgery Plastic & Reconstructive surgery Phonosurgery Cochlear Implantation
Other Similar Doctors