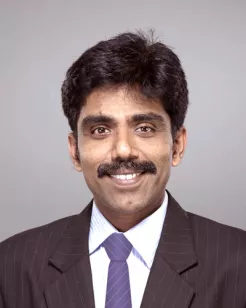 Dr. Shailesh Shetty S
Consultant - Emergency Medicine
MBBS, MD (A&CCM), MEM, DEM, PGDMLE, PGDMCH
Overview
Dr. Shailesh Shetty S, Emergency Medicine Consultant at the Aster CMI Hospital and has a rich experience of 22 years in managing emergencies. Most of his experience is from a well-established Emergency Department in the Bahrain Defence Force Military Hospital.

Dr. Shailesh has been certified with numerous life support courses which include, BLS (Basic Life Support) & ACLS (Advanced Cardiovascular Life Support) Instructor, PALS (Pediatric Advanced Life Support Instructor), Advanced HAZMAT (Hazardous materials) Life Support Instructor, BTLS (Basic Trauma Life Support) Advanced Instructor, ATLS (Advanced Trauma Life Support) & CTLS (Comprehensive Trauma Life Support) provider, ISTOLS (Indian Society of Toxicology Life Support) provider, NALS provider (Neonatal Advanced Life Support), WINFOCUS (The World Interactive Network Focused On Critical UltraSound) Ultrasound in Emergency, Bronchoscopy, Ventilator Basics, Wound care and Suturing and many more.

He was In-charge of the Emergency Department at Sagar Apollo Hospital from 2002-2004, a Shift Team Leader, teaching coordinator & Deputy QMR (Quality Medical Representative) for the ED at Bahrain Defence Force Hospital for more than 6 years.

He has experience in teaching nursing students at Redfern Memorial Hospital, Hassan & Holdsworth Memorial Hospital, Mysore. He has been part of the MD-EM PG teaching programme at Ramaiah Medical College & Hospitals and Emergency Medicine Faculty of the International Medical School. He has also been faculty of EMOCALS, (Emergency Obstetric Care and Life Support). He was the member of the Organizing Committee of the Critical Conference at Bangalore in 2015 and Emergency Medicine Conference 'EMCON' & "NAPEM"in 2018. He was Faculty for the Simulation Workshop at the Criticare Conference in Bangalore and for the International Critical care conference at Sathya Sai Institute of Health Sciences.

Dr. Shailesh Shetty was also the course co-ordinator of an indigenously designed emergency course by Ramaiah Medical College for the Government of Karnataka under the KHSDRP (Karnataka Health System Development and Research Project) for the doctors, nurses, pharmacists and lab technicians. He was the Clinical Supervisor-Training of Heart Rescue India, a project by Ramaiah Medical College and University of Chicago.

He has been actively involved in the various state-level Disaster Management Mock drills including the Bangalore International Airport limited [BIAL] for the Emergency response preparedness at the airport.

In addition, Dr. Shailesh Shetty holds a Diploma in Medical law from the prestigious National Law School of India University. He was the first in Air Evacuation and transport of patient on ventilator supported by Manipal & Deccan Air Ambulance in 2004 and also Air Evacuation Team member of the medical team for Formula 1 at Kingdom of Bahrain in 2009.
Awards and recognitions
Bronze Medal in MD
AHA Instructor for BLS, ACLS, PALS
AHA Provider for NALS,
ISTOLS Provider
ATLS provider
Fellowship in Pediatric Emergency Medicine [FACEE-PEM]

Membership
Life Member Of Society For Emergency Medicine In India [SEMI]

Papers Published
Review on Weaning, NJEM (National Journal of Emergency Medicine)