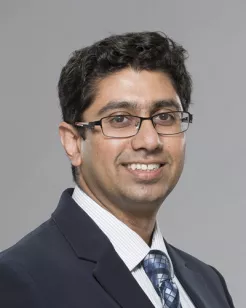 Dr. Vinay Bhat
Consultant - Surgical Gastroenterology And GI Oncology
Overview
Dr. Vinay Bhat is a certified HPB and GI Surgery with a special interest in GI Oncology, Pancreatic diseases and Colorectal surgery. He is one of the Best Surgical Gastroenterologists in Bangalore. He is currently the Lead Consultant in Surgical Gastroenterology and GI Oncology at Aster CMI Hospital, Bangalore. He is adept at performing minimally invasive (laparoscopic and robotic) as well as open surgeries for a wide range of Gastroenterology related diseases.

Dr. Vinay has completed his training at reputed colleges and institutes in India and Abroad. He graduated from St John's Medical College, Bangalore and went on to complete his Masters's in General Surgery from the same institute. He spent some time training in Oncology at the prestigious Kidwai Memorial Institute of Oncology and thereafter completed his training in Surgical Gastroenterology at the Asian Institute of Gastroenterology.

He received the Dr B Ramamurthi Gold Medal in DNB General Surgery (June 2010) and Dr Rangabhashyam Gold Medal in DNB Surgical Gastroenterology (Dec 2013) for standing first at the All India Level in the respective specialities.

In 2015 and 2016, he visited the Mayo Clinic, Rochester and IRCAD, Strasbourg for training in advanced laparoscopy. He joined on board the Surgical team at Aster CMI hospital, Bangalore in October 2015 bringing with him 11 years of surgical finesse and academic expertise in advanced laparoscopy, GI Oncology, colorectal surgery, pancreatic-biliary diseases and IBD.

Dr. Vinay Bhat has Board certification from Karnataka Medical Council - 71462.
Awards and recognitions
Dr B Ramamurthi Gold Medal DNB General Surgery June 2010 Awarded for the degree of Diplomate of National Board, by the National Board of Examinations, Ministry of Health and Family Welfare, Government of India in New Delhi, India.
Dr Rangabhashyam Gold Medal DNB Surgical Gastroenterology Dec 2013 Awarded for the degree of Diplomate of National Board, by the National Board of Examinations, Ministry of Health and Family welfare, Government of India, New Delhi, India.

Conferences And CME Programs Attended:
Basic Cardiac Life Support Course, SJMCH / SEMI June 2004.
Bangalore City Chapter ASI Monthly CSEPs 2006-2009.
Bangalore Society of Surgical Gastroenterologists CMEs 2009-2010.
Karnataka State Chapter ASI CSEP, Tumkur Feb 2007.
National Level CSEPs.
          a. HepatoBiliary CSEP, Cochin 2007.
          b. Prof B Hanumaiah Memorial CSEP – Nov 2007 and Nov 2008.
          c. Tamil Nadu State Chapter CSEP, Madurai – Feb 2009.
          d. 12th AMASI Skill Course, SJMCH Nov 2009.
Hands on Course – Segmental Resection of Liver PSG Surgicon 2010 – Feb 2010.
PSG Surgicon 2010 – Update on Hepato-Pancreato-Biliary Surgery – Feb 2010.
Second Certificate Course in Hepato Pancreato Biliary Surgery, CMC Vellore – Aug-Sep 2010.
IASGCON 2010, Hyderabad – October 2010.
ACRSICON 2012, Dubai - Sep 2012.
16th Advanced Instructional Course in Coloproctology by ACRSI, Dubai – Sep 2012.
IASGCON 2013, Kolkata – October 2013.
Pancreas India Course 2013.
15th International Live GI Endoscopy Workshop, Hyderabad March 2014.
International Symposium on Inflammatory Bowel Disease, Hyderabad August 2014.
IHPBA India 2015 – benign HPB diseases Hyderabad Feb-March 2015.
Oxford Organ Retreival Workshop, Bangalore Sep-Oct 2015.
IHPBA 2017, Bangalore.
AMASICON 2017.
IASGCON 2018 - Chandigarh.
IASGCON 2019 – New Delhi.
8th International Colorectal Symposium – CMC Vellore.
KSC ASICON 2020 - Bangalore.
8th Asia Pacific Gastroesophageal Cancer Congress 2020 - Chennai.