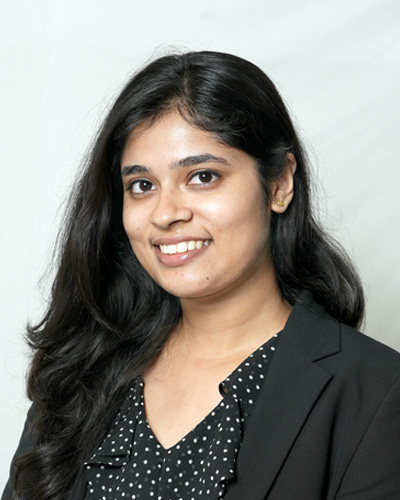 Ms. Jini Biju Thomas
Speech Language Pathologist
BASLP, MSc. in Speech Language Pathology
Overview
Ms. Jini Biju Thomas is a highly qualified and dedicated professional in the field of speech-language pathology and dysphagia therapy. She holds certification from the Rehabilitation Council of India (RCI) as a Speech Language Pathologist and Dysphagia therapist. Her educational background includes both graduation and postgraduation degrees earned from Manipal Academy of Higher Education (MAHE), showcasing her commitment to academic excellence.
With a year of valuable work experience, Ms. Jini has honed her skills in working with children who face challenges related to speech, language, and swallowing. Her diverse experience includes collaborating with children across different age groups, and she has had the opportunity to intern at esteemed institutions such as Kasturba Medical College Hospital, Wenlock district hospital, and Government Lady Goschen Hospital, gaining a wide range of exposure in healthcare settings.
Furthermore, Ms. Jini has extended her expertise to inclusive and special educational environments. Her contributions have positively impacted children in institutions such as St. Agnes special school, Manipal school, Karunya special school, and Manasa rehabilitation and training centre, where she has played a crucial role in enhancing the communication and learning experiences of these students.
Ms. Jini's skill set is both comprehensive and specialized. She possesses the competence to assess and manage children with various conditions, including Autism spectrum disorder (ASD), Dysphagia, Attention Deficit Hyperactivity Disorder (ADHD), Learning disabilities, Fluency disorders, Speech sound disorders, Maxillofacial anomalies, and neurogenic communication disorders. Her dedication to her profession and her ability to work with a diverse range of children make her a valuable asset in the field of speech-language pathology and therapy.
Membership & Paper publish:
    • Ms. Jini is a Rehabilitation council of India (RCI) certified Speech Language Pathologist.
    • She has published an article in the Clinical Epidemiology and Global Health journal titled 'Counselling in Speech-Language Pathology' in 2022.
Area of expertise
Early intervention
Alternative Augmentative communication (AAC)
Awards and recognitions
Ms. Jini received the best outgoing student award in MSc. Speech language pathology from MAHE in 2022.
She was awarded best poster presentation in Spectrum Con, 2018.
Other Similar Doctors