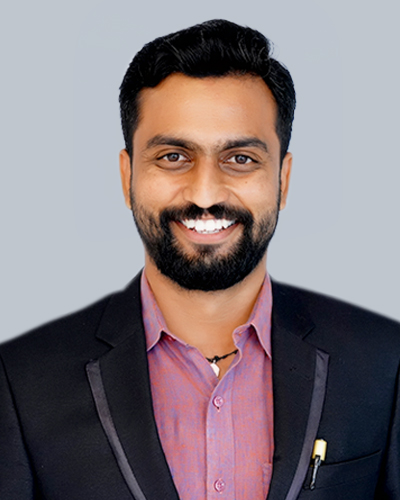 Dr. Karun Mahesh K P
Consultant - Physician
MBBS, MD (General Medicine)
Overview
Dr. Karun Mahesh K P, an accomplished Department Medical Doctor, brings a wealth of clinical experience and a strong background in medical education to the healthcare field. With a career marked by dedication and commitment, Dr. Karun is known for their collaborative approach and patient-centric mindset.
Having both a thriving medical practice and teaching experience at the esteemed NMC (National Medical College), Dr. Karun Mahesh K P understands the importance of a well-rounded healthcare ecosystem. They embrace the philosophy of working harmoniously with all members of the hospital team, valuing each colleague's insights and expertise. This collaborative spirit is a testament to their unwavering commitment to optimizing patient satisfaction, ensuring that every individual receives the best possible care.
One of Dr. Karun's distinctive passions revolves around nutrition. They firmly believe in the transformative power of good nutritional practices in promoting overall health and well-being. Driven by this conviction, they are dedicated to disseminating accurate and beneficial knowledge about nutrition, both within the medical community and to the wider public. This commitment to nutritional education underscores their holistic approach to healthcare, emphasizing the importance of preventive measures in addition to curative interventions.
In conclusion, Dr. Karun Mahesh K P stands as a respected and compassionate Department Medical Doctor, known for their collaborative spirit, dedication to patient satisfaction, and their mission to promote a better understanding of nutrition for the benefit of all.
Area of expertise
Immunology,Diabeties & Nutrition
Metabolic Syndrome
Hypertension
Primary blood disorder
Infection disease
Poisonous bites
Research activities
Awards and recognitions
Participated in health camps organised by Indian National Army in Border villages of Kashmir Valley.
Authored chapter in 1)" CRITICAL CARE MCQs PROBLEM -BASED LEARNING" 2)"ALGORITHMIC APPROACH IN CRITICAL CARE" by ISCCM. Awarded CLERKSHIP from department of Infectious Disease and Clinical Pathology from KECK SCHOOL OF MEDICINE,UNIVERSITY OF SOUTHERN CALIFORNIA LOS ANGELES, CALIFORNIA, USAm