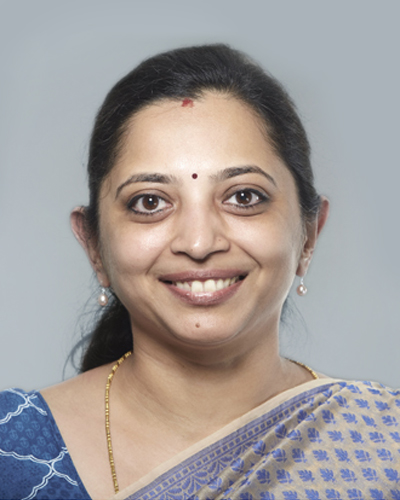 Dr. Durgapoorna
Senior Consultant - Radiation Oncology
Fellowship in Stereotactic Body Radiation Therapy, MD in Radiotherapy, MBBS
Overview
A Radiation Oncologist with over 11 years of experience, Dr. Durgapoorna is an expert in the radiotherapeutic management of malignant / benign neurological diseases with more than a decade's experience in performing Cranial Radiosurgery. She believes in providing ethical, evidence-based management of cancers with a focus on improving the quality of life of patients. Her training at the University of Texas MD Anderson Cancer Center, which is one of the most reputed cancer care facilities in the world, enriched her knowledge in advanced therapies / techniques like stereotactic body radiotherapy and image-guided treatments for tumours in extracranial sites, especially the spine, the gastro intestinal tract and the lung. Dr. Durgapoorna has extensive experience in Stereotactic Radio Surgery (SRS), Stereotactic Body Radiotherapy, Image Guided Radiotherapy, Intensity Modulated Radiotherapy including Volumetric Modulated Arc Therapy, Helical Tomotherapy and CyberKnife procedures along with Brachytherapy, Total Skin Electron Therapy (TSET), 3D Conformal Radiotherapy and Conventional Radiotherapy. Apart from Neuro Oncology, her areas of interest include the management of head and neck, breast, thoracic, gastro intestinal and gynaecological cancers.
Awards and recognitions
Experience in all aspects of radiation oncology, in both adults and children.
Trained extensively in radiotherapeutic management of various benign and malignant neurological conditions.
Travel Grant Recipient to attend The State of the Art in Radiation Oncology, Biology, Physics held at San Antonio, Texas, USA by the American Society of Therapeutic Radiation Oncology.
Served multiple times as an Examiner for the award of the degree of MD in Radiotherapy.
Published numerous research articles in international peer reviewed journals.
Believes in a holistic approach to treatment and providing continuum of care and palliation.