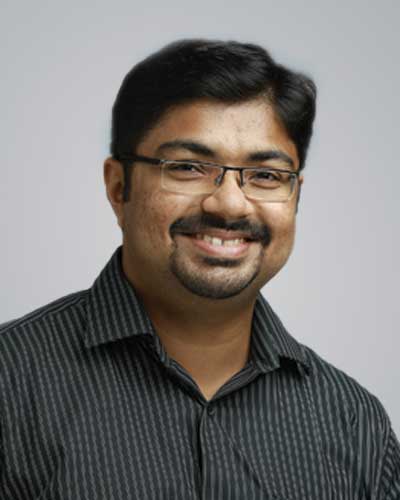 Dr. Ranjit Baby Joseph
Consultant - Paediatrics & Allergy
Diploma in Allergy & Asthma (CMC Vellore) | Certificate course in Pediatric Pulmonology & Flexible Fibre Optic Bronchoscopy ((Kanchi Kamakoti Childs Trust Hospital, Chennai) | MD in Pediatrics (AIMS, Mandya) | MBBS (Govt. Medical College, Kottayam)
Overview
A Paediatrician with more than 8 years of experience to his credit, Dr Ranjit has achieved specialized training in management of pediatric respiratory diseases, allergic disorders and is also experienced in managing medically unstable children. His areas of interest are general paediatrics, paediatric pulmonology, critical care, allergy and immunology. Paediatric lung function tests and allergy tests are performed under his guidance.
Awards and recognitions
•    Trained in Pediatric allergy and asthma from prestigious Christian Medical College, Vellore in collaboration with International Asthma Services, Colorado, USA endorsed by American Academy of Asthma, Allergy and Immunology & Centre for Global Health, University of Colorado, USA
•    Trained in Pediatric Bronchoscopy under the aegis of Indian Academy of Pediatrics (Respiratory chapter)
•    Post Graduate programme in Pediatric Nutrition (PGPN) certificate course from Boston University
•    Virology connect course by Mayo Clinic
•    IPA Vaccine trust course- level 1 offered by the International Pediatric Association
•    Executive Management Program in Healthcare: Management Essentials, provided by The University of Virginia, Darden School of Business Foundation
•    PedEX (Learning Platform for Pediatric Experts) certificate program approved by the federation of Royal College of Paediatrics and Child Health (RCPCH)
•    IAP-NNF Neonatal Resuscitation Program - Advance Provider Course (NRP)
•    Authored chapter on Allergic disorders in IAP Pediatric Drug Formulary
•    25 publications in various National and International journals
•    Life Member- Indian Medical Association, Indian Academy of Pediatrics, IAP Respiratory chapter, Asthma Allergy Network of India
•    Proficient in English, Malayalam, Tamil, Kannada and Hindi.