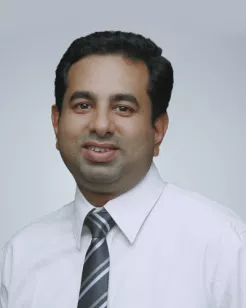 Dr. Sreeram P
Consultant - ENT surgery
Overview
An ENT surgeon with extensive training in Neurotology, Dr. Sreeram specialises in management of vertigo and complex balance disorders. He heads the Vertigo & Balance Clinic at Aster Medcity, which is a one-of-its-kind facility in the region. Dr. Sreeram's areas of special interest include advanced phonosurgery for management of complex throat and voice problems, laryngology, paediatric ORL, middle ear / cochlear implants and extended endoscopic skull base surgery.
Awards and recognitions
Specialised training in Neurotology for management of vertigo and balance disorders is patients of all ages
Attained training at several international Neurotology Workshops led by highly acclaimed experts including Dr. Michael Strupp, Dr. Marco Mandala and Dr. Soumit Das Gupta.
Played a key role in establishment of the first Vertigo Clinic at the Govt. Medical College, Thiruvananthapuram.
Observership in Laryngology & Phonosurgery, KIMS, Thiruvananthapuram.
Worked as Consultant ENT Surgeon at the Malabar Hospital, Manjeri.
Published articles in peer reviewed journals.
Won Gold medal for best consultant paper in 2016.
Member of Neurotology & Equillibriometric Society of India.
Member of Association of Phonosurgeons of India.
Other Similar Doctors