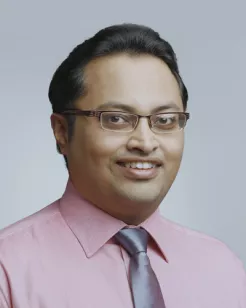 Dr. Zachariah T Zachariah
Consultant - Physical Medicine and Rehabilitation
Overview
Dr. Zachariah T Zachariah is a Consultant in Physical Medicine & Rehabilitation at the best multi speciality hospital in Kochi - Aster Medcity
A Physiatrist and Rehabilitation Physician with many years of experience, Dr. Zachariah T Zachariah is trained in Physical Medicine and Rehabilitation (PMR) – a specialized, therapeutic branch of medical science that helps enhance/ promote mobility and functional ability lost due to injury or illness, by restoring the use of muscles, bones and the nervous system, in patients of all ages. Trained extensively in advanced PMR management, his area of special interest is Neurorehabilitation especially strokes, brain injury and spinal cord injuries.
Area of expertise
Intra articular and soft tissue infiltrations
Nerve blocks
Motor point injections of alcohol, phenol and Botulinum toxin (Botox)
Electrophysiological studies – NCS and EMG
Urodynamic studies – CMG
Gait Analysis
Plaster of Paris (POP) casting and splinting
Physiotherapy Prescription
Occupational therapy Prescription
Prosthetic and Orthotics Prescription
Awards and recognitions
Member of:
Indian Association of Physical Medicine and Rehabilitation (IAPMR)
IAPMR Kerala State Chapter
Indian Medical Association (IMA)
Published research articles
Worked in Government Medical College Thiruvananthapuram.
Worked in JIPMER, Pondicherry for more than 3 years and was the first Senior Resident in the department of PMR there.
 
Publications and Accreditation:
IAPMR Dadichi Hospimedica award for innovation 2021 : Best faculty paper in IAPMRCON 2021.
1st prize for Quiz in National Conference IAPMRCON 2012.
An observational study identifying gait deviations in transtibial amputees – IJPMR 2011 DEC; VOL 22 (3) : Pg 120
Quality of life and functional status of inmates of old age homes – IJPME JAN 2013 VOL 24 Supple S2