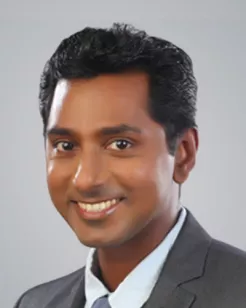 Overview
Dr. Anoop has completed his Graduation from KMC Mangalore in 1999 and his internship at the Medical College Calicut by the year Feb 2000. He also obtained a Diploma in TB & Chest diseases from the Calicut Medical College in the year 2004-2006. Dr. Anoop is a Diplomate in National Board Of Education 2007-2009 Calicut Medical College.
Training in Interventional Pulmonology
American Thoracic Society training in EBUS in the year 2013
Completed ERS Training in EBUS- Interventional Bronchoscopy/Thoracoscopy and Rigid Bronchoscopy in 2014 & 2015
Interventional training Observership under Steffano Gaspirini Oespadali University Ancona Italy 2016 September
Interventional training under Prof-G.Stratokos
Athens Solitaria Hospital June 2018
Rigid Bronchoscopy & Cryobiopsy Observership in 2019 May in Malaysia under Dr.Jamalul Azizi
Area of expertise
Interventional Pulmonology

Newer trends  in Asthma & COPD Management

Newer Trends in lung malignancies management
Awards and recognitions
ERS certificate of training in rigid bronchoscopy / EBUS 2015




Thoracoscopy 2016

Adjudged Best free paper award recipient 2005 Kolkatta Napcon- for Quit Smoking Study and observational Clinical Study

Same Paper Was Adjudged Best Research Article in Pulmon Journal 2015

Young Scientist award 2007 November Napcon Chandigarh
Experience
Chief Medical Officer from 2000-2002


Vincentgiri Mannanthavadi




Pothery Nursing Home- Kannur




Nirmala Hospital - Calicut

2009 Feb -2012 Mar Pulmonologist and critical care specialist in Nirmala Hospital, Calicut
From 2012 April to till date, Sr. Consultant Pulmonologist in aster MIMS Kozhikkode


Heading the department (HOD) since 2017 June
Papers Published
Clinical Profile of persons attending the smoking clinic of Institute of Chest Diseases A prospective study

 Askin Tumour masquerading as a pleural effusion in young; Pulmon 2007

 An Unusual Cause for Pulmonary Metastasis.

Comparison of treatment outcome for cessession of smoking in subjects treated with bupropion, nicotine replacement therapy or combination of both.