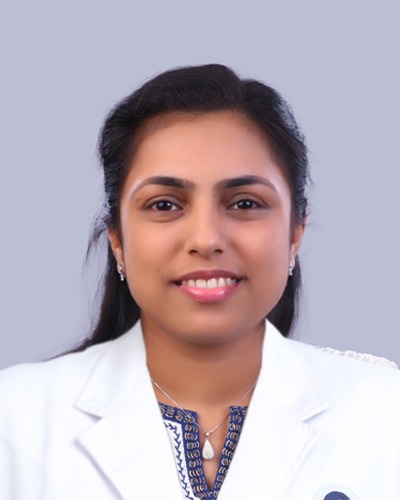 Dr. Divya Pachat
Consultant - Obstetrics & Gynaecology
Overview
Dr. Divya completed MBBS from Pariyaram Medical College, Kannur, MD in Biochemistry from Kasturba Medical College Mangalore, Manipal University. She did Post Doctoral fellowship in Clinical Genetics from CMC Vellore.She holds ample experience in the diagnosis, evaluation, management and counseling of disorders with genetic predisposition.
Area of expertise
Neuro Genetics

Metabolic Genetics
Awards and recognitions
Publications:
Marformations in Corticar Deveropment: A case series of 180 paediatric patients-For submission to Journal of pediatric Neurology.
A rare case of Menkes Disease in a female ch,d with x; 13 translocation- For submission to Journar of paediatrics.
Ring chromosomes 13 and 14: two case reports with unusual features and review of literature- For submission to Indian Journal of Paerliatrics .
A novel VHL gene mutation in an Indian family with von HipperLindau syndrome- For submission to Human Mutation.
Genetic workup of Camurati Engelmann Disease: A case series of three Indian Families- For submission to Indian Journal of Medical Research.
Other Similar Doctors