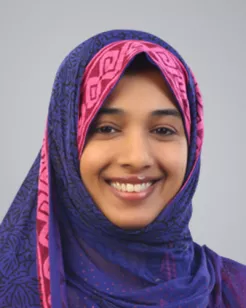 Dr. Lasida Ali
Dermatologist, Cosmetologist & Hair Transplant Surgeon
Overview
Dr. Lasida Ali is a Dermatologist, Cosmetologist, and Hair transplant surgeon at the best dermatology hospital in Calicut with 15 years of experience. She completed her MBBS  from the prestigious Calicut Medical College in the year 2004. She later obtained a DVD and MD in Dermatology and Cosmetology from the same institute in 2008 & 2009 respectively.
Prior to joining MIMS, she was working as Assistant Professor in the Dept of Dermatology at Malabar Medical College, Modakkallur. She is extremely passionate about dermatology and aesthetic medicine striving to offer state-of-the-art personalized treatment to her patients.
She has attended various courses and workshops on lasers, botox, fillers, thread lifts, scar management, PRP, vitiligo corrective surgeries, and hair transplantation. In addition to clinical dermatology, her areas of expertise include facial rejuvenation, anti-aging treatment,  scar and pigment therapy, and hair restoration. She is well versed in advanced MK cell transplantation for vitiligo.
She has undergone training in hair transplantation from multiple centers in India and is a  member of the Association of Hair Restoration Surgeons of India.
Area of expertise
Skin solutions
Acne
Scars
Pigmentation
Laser hair reduction
Moles/skin tags/warts removal
Vitiligo
Xanthelasma
 
Aesthetic solutions
chemical peels
medi-facials
microdermabrasion
botox
filler
thread lift
beautiful back treatment
hands and feet rejuvenation
PRP
Hair solution
Patchy hair loss 
Male pattern hair loss
Female pattern hair loss
PRP for hair growh
Microneedling
Hair transplantation