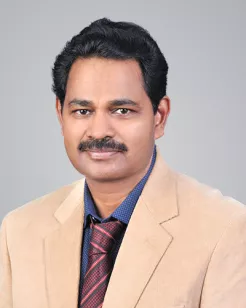 Dr. Vinu A
Consultant Interventional cardiologist
Overview
Dr. Vinu is one of the most respected Interventional Cardiologists in Kerala, and has put over more than 19 years of experience in various hospitals.
His areas of special interest include Coronary and Peripheral Intervention and, have treated more than 7000 cardiac patients till date.
Possessing unmatched talent and skill, he has performed life-changing Structural Heart Disease and coronary Intervention procedures, and conducted successful Device implants for Arrhythmia and Heart Failure.
Area of expertise
Heart Disease
Coronary Intervention procedures
Arrhythmia and Heart Failure
Awards and recognitions
Member of Cardiological Society of India
Fellow of European Society of Cardiology
Assessment of Clinical Profile Changes in Caliber and Flow Pattern on Coronary Artery Ecstasia Following Nitroglycerine