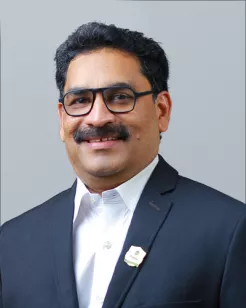 Dr. Shaji KR
Senior Consultant - Neuro & Spine Surgery
Overview
A Neurosurgeon with nearly two decades of experience, Dr. Shaji K R has authored several publications, presentations, and research work.
He completed his MBBS from Kempegowda Institute of Medical Sciences, Bangalore. He is qualified as a Master of Chirurgiae (MCh) in Neurosurgery from the National Institute of Mental Health and Neuro-Sciences (NIMHANS), Bangalore, where he also was a resident doctor.
He has worked as a consultant with West Fort Hospital, West Fort Hi-Tech Hospital, and Daya Surgical Speciality Hospital in Thrissur before joining the Aster group.
In course of his career, he has also won awards for presenting papers at various medical conferences including - the 49th annual conference of the Neurological Society of India - World Congress of Neurosurgery organised by the World Federation of Neurosurgical Societies in Sydney in 2004 - International conference on psychiatric and neurological rehabilitation in Bangalore in 1997.
Awards and recognitions
He has got handful of publications presentation and research work to his credit which includes
Award paper presentation at 49th Annual conference of Neurological society of India
Award paper at WFNS Sydney 2004
International conference in Psychia and Neuro rehabilitation held at Bangalore in 1997.
Other Similar Doctors