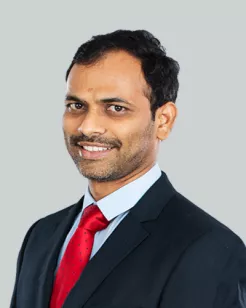 Dr. Vijaya Bhaskar Reddy G
Consultant - Urology
MBBS, MS - General Surgery, MCh - Genito Urinary Surgery
Overview
Dr. Vijaya Bhaskar Reddy Has Great Exposure & Experience with all kinds of end urological, Laparoscopic Surgeries. He presented his Urology career at Narayana medical college under the able guidance of prof. Dr. V.Surya Prakash Ms, Mch. He has many awards and rewards as a Urology Medical Student. He has published national & International papers. After Passing urology with Districting he worked as an assistant Professor at Narayana Medical College for 2 years. He started the Dept of Urology at Narayanadri Hospital & Research institute in 2018. He is well versed with laser procedures for renal stones & prostate. He Is Much Interested in Reconstructive work with Pyeloplasty and Urethroplasty for Stricture Disease.
Area of expertise
Renal Stone Operations – RIRS PCNL, URSL ,PCNL VRSL
Prostate : TURP
Laparoscopic Pyeloplasty and ureteric Reimplantation Urogynecology – VVF & SVI Surgerics kidney and Bladder Cancers.
Awards and recognitions
His article "The effect of percutaneous balloon mitral valvuloplasty on six-minute walk test and left ventricular performance by speckle tracking echocardiography in rheumatic severe mitral stenosis" was published in the IOSR Journal of Medical sciences on 14 March 2019, Issue 3, Series 14.
Other Similar Doctors