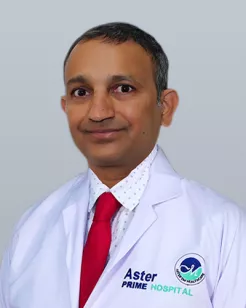 Dr. T Narender
Consultant Paediatrician & Neonatologist (New Born, Children & Adolescent Specialist)
MBBS, MD - Pediatrics (Gold Medalist), MRCPI (Ireland), Fellow Neonatology (Kochi), Fellow Neonatology (London), Fellow Pediatrics (UK)
Overview
Dr. T.Narender is a Consultant Paediatrician & Neonatologist (New Born, Children & Adolescent Specialist) at the best pediatric hospital in Hyderabad - Aster Prime. He had completed his MBBS from Andhra Medical College and King George Hospital, Visakhapatnam in 1997. He had completed his MD in Paediatrics from Rangaraya Medical College, Kakinada in 2001.
Dr.T.Narender has been extensively trained in General Paediatrics and Neonatology in India, England, Scotland, and Ireland. He has been a member of the Indian Academy of Paediatrics for two decades. He has done a fellowship in Neonatology in PVS Memorial Hospital, Kochi.
Work Experience
Prior to joining Aster Prime, he worked in various corporate hospitals (Apollo, Mediciti, BBR) he went to UK and gained good clinical, managerial and leadership skills.
He has been a Paediatric life support instructor, a provider for Advanced Paediatric Life support and Newborn Life Support for over a decade in England.
He gained NICU experience by working in various level 3 neonatal units in England and Scotland. He has been involved in various research, publications, Audits in England and Scotland. He has been a medical student examiner in England.
He had several Paediatric Clinics (Bumble Bee Children Clinic, Shankarpalli, Cheeks Children Clinic, Patancheru) during his sabbatical in Hyderabad.
He worked as a Consultant Paediatrician and Neonatologist in Rainbow Children Hospital, Hyderabad from the year October 2018 to November 2018.
Currently, he has been running Naano Doctors Clinics successfully over the last couple of years.
Area of expertise
Treatment of General Paediatric and Neonatal conditions such as:
Asthma
Allergic rhinitis
Chronic cough
Breathing difficulty
Fever
Common cold
Food allergies
Skin infections
Diarrhea
Vomiting
Abdominal (stomach) pain
Ear, nose and throat problems
Nutrition counseling for new born, infants, children and adolescents
Developmental and behavioral disorders
Immunisations
Growth disorders, etc.
Teaching
Dr. T.Narender got involved in teaching in various ways. He presented several cases and taught junior colleagues during his specialist training in paediatrics, MD in India.
During his training as an SHO and registrar in various hospitals in UK he had participated in the departmental teaching programme.
He has taught junior colleagues and support staff about clinical cases at the bedside and procedures - cannulations, phlebotomy, lumbar puncture and others.
He has taught medical students, FY 1, GPVTS and junior colleagues about the approach to a case, problem solving, clinical examination skills, interpretation of findings, discussion and management which led to completing Minicex, Case based discussion and DOPS.
He has taught several interesting cases in his department as part of the grand round teaching programme.
He has been a Paediatric Life support instructor over the last several years.
Publications
In 2002 he had written a case report of a neonate with cardiac rhabdomyomata presenting with supraventricular tachycardia and heart failure. It was accepted by Indian Academy of Paediatrics.
Bilateral radial nerve palsy associated with sclerema neonatorum in the newborn. It is in the process of publishing awaiting written consent from parents.
Research
"The role of percutaneous lung aspiration as a diagnostic aid in acute bacterial pneumonia in children." A thesis based on the study accepted for the MD in Paediatrics by NTR University of Health Sciences, Vijayawada, India.
Other Activities
He has passion towards charity work as evidenced by conducting school and community health camps in and around government schools.
He has been providing monetary support to Akshayapatra (World's largest NGO run mid-day meal programme)
Awards and recognitions
Awarded Dr. Y R Reddy gold medal during his post graduation
Awarded MRCPI in 2008.
Other Similar Doctors