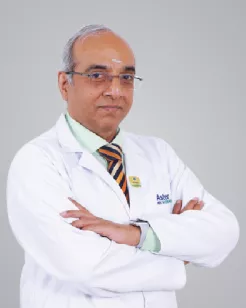 Dr. Ganesh Krishnan Iyer
Lead Consultant - CTVS Surgery
Overview
Dr. Ganeshakrishnan Iyer, a stalwart in the field of Cardiothoracic and Vascular Surgery and with over 25 years of experience in the field, has performed more than 12,000 open heart surgeries in the last two and a half decades.
He has been constantly involved in complex adult and pediatric cardiac surgeries. His areas of special interest are mitral valve repair, minimally invasive cardiac surgery, aortic aneurysm, aortic valve-sparing procedure and surgery for atrial fibrillation.
Dr. Iyer worked with leading multi-specialty hospitals as a chief cardiovascular surgeon prior to joining Aster RV as a lead consultant in the Department of Cardiothoracic and Vascular Surgery. He has extensive experience in the teaching field and has been training graduate medical students on basic clinical surgery and patient management for both routine and emergency cases.
He completed his MBBS and MS in General Surgery from Grant Medical College and Sir JJ Group of Hospitals University, Bombay.
He completed MCh – Cardiothoracic and Vascular Surgery from Seth GS Medical College and KEM Hospital University, Bombay. Subsequent to his basic training, he has undergone fellowship training in the US and Canada in adult and pediatric cardiac surgery, including thoracic organ transplantation.
He was also on the staff at the Karolinska University in Stockholm, Sweden for a couple of years.
Other Similar Doctors