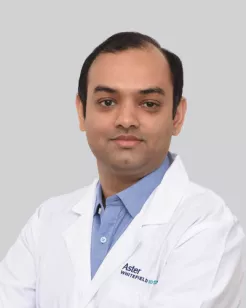 Dr. Ashray V
Consultant – Emergency Medicine
MBBS, MD (Emergency Medicine)
Overview
Dr. Ashray V is Consultant at the Emergency Medicine Department at Aster Whitefield Hospital with almost five years of work experience in the field. He completed his formal training by obtaining an M.D. Emergency Medicine degree from the Rajiv Gandhi University of Health Sciences in Karnataka.
During his experience, he has worked in two Emergency Departments with large patient volumes. He worked at Nizams Institute of Medical Sciences in Hyderabad, which has a 93-bed Emergency Department with three ICUs, and at St Johns Medical College Hospital in Bengaluru, which has a 30-bed Emergency Department with eight ICU beds.
Dr. Ashray's experience in these high-pressure environments has allowed him to stay updated with the latest advances in Emergency Medicine. He has also been actively involved in teaching and training Post Graduate Residents, Nursing Staff, and Paramedics in Emergency Medicine related skills and procedures.
Area of expertise
Emergency Medicine

Toxicology

Trauma.
Awards and recognitions
American Heart Association certified BLS and ACLS Instructor since 2017.

Recognized as The Best Teacher from the Department of Emergency Medicine By The Outgoing Batch Of MBBS students at St John's Medical College Hospital for the Academic Year 2020-2021.

Course Faculty For Emergency Ultrasound – Skill and Application Workshop at St John's Medical College Hospital (July 2022 and January 2023).

Invited Speaker and Workshop Faculty at National And State level Emergency Medicine Conferences

​​​​​​.
Membership:
Life Member of The Indian Medical Association since 2015.

Member of E.M.A (Emergency Medicine Association).
Paper Published:
K R, Hemanth V,  Ashray V, C.T S, N A. Risk Factors For Severe Pneumonia In Children: A 

Hospital Based Case–Control Study. Journal of Evolution of Medical and Dental Sciences. 

2012;1(4):357-370.

Jaihind Khasage U, Kumar V, Shamanur N, Prasad B, Kempanna B, Siddappa G, 

Vasanthapuram A, Sujir S N. Bedside Transorbital Sonographic Evaluation Of Optic Nerve 

Sheath Diameter In Healthy South Indian Population. Journal of Evidence-Based Medicine 

and Healthcare. 2016;3(101):5573-5576.

Sachin Nayak Sujir, Narendra S S, Ashray. V, Vijay Kumar. High Dose Corticosteroids – A 

Boon or Bane in Dengue Fever with Thrombocytopenia: A Case-Control Study. IJSR 

(International Journal of Science and Research) 2018;7(2)157-60.

Ashray. V, Narendra SS, Vijay Kumar, Sachin Nayak Sujir. Predictors of Morbidity and 

Mortality in Organophosphorous Compound Poisoning at a Tertiary Care Hospital in 

Karnataka. IJSR (International Journal of Science and Research) 2018; 7(4).

Ashima Sharma, Hymavathi A, Ashray V, Mohd Rafi, Dharani Reddy, Shalini P 'Role of D -Dimer 

And Bnp In Enhancing The Ability of Qsofa For Early Identification of Sepsis A 

Prospective Observational Study In The Emergency Department', International Journal of 

Current Medical and Pharmaceutical Research, 06(12): 5428-5430.

Reddy C, Krishnamurthy M, Vasanthapuram A, Narayan G, Narendra S. Cross-sectional 

Study on Myocardial Infarction in Young Adults in an Emergency Department of a Rural 

Tertiary Care Hospital, Davanagere, Karnataka, India. Journal Of Clinical And Diagnostic 

Research. 2021; 15(5).
Other Similar Doctors