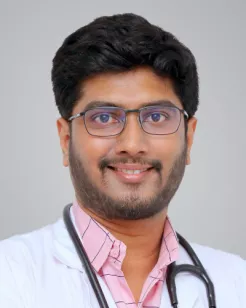 Dr. Rakesh Bobba
Consultant - Endocrinology & Diabetology
Overview
Dr. Rakesh Bobba has completed is MBBS from BMCH, Chitradurga, Karnataka and continued to peruse MD from VIMS, Government College, Bellary and completed his DM from MS Ramaiah Medical College, Bangalore. He was an Investigator for STEP 2 Clinical Trial – Multinational trial for the drug Semaglutide.
He is an expert at treating Diabetes, Thyroidism, Hypertension, Obesity, Osteoporosis, PCOS, Infertility, Dyslipidaemia, Hirsutism, Adrenal Gland Disorders, Pituitary Gland Disorders, Transgender Medicine.
He has many publications to his name including -
Diabetes and its Transgenerational Transmission, How do we handle? – Perspectives in Diabetes Past Present & Future, Subclinical Hyperthyroidism Review Article – APIK Journal of Internal Medicine, Ectopic Precarnial space Parathyroid Carcinoma – World Journal of Endocrine Surgery, Indoxacarb poisoning presenting as Methemoglobinemia and seizures – Journal of the Association of Physicians of India, Tales of Thyroid & Women's life chapter in Cardiabcon, Study of effects of gender-affirming therapy and gender-reassignment surgery on Bone Mineral Density in Individuals with Gender Dysphoria – Transgender Health, International Journal (under review).
Area of expertise
Diabetes
Thyroid
Hypertension
Obesity
Osteoporosis
PCOS
Infertility
Dyslipidaemia
Hirsutism
Adrenal Gland Disorders
Pituitary Gland Disorders
Transgender Medicine