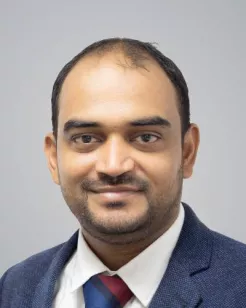 Dr. Lokesh Chaudhari
Consultant- Interventional Cardiology
MBBS, MD (General Medicine), DM (Cardiology)
Overview
Dr. Lokesh Choudhari has done MBBS and MD General Medicine from Seth G S Medical college and KEM Hospital, Mumbai. He has done DM Cardiology from one of the largest and prestigious Sri Jayadeva Institute of Cardiovascular Sciences and Research, Bengaluru.
He has over 5 years of experience in the field of cardiology and has performed over 1200 interventional cardiology procedures. He has expertise in management of Heart attack, acute and chronic heart failure, valvular heart diseases, congenital heart diseases and medical management various heart diseases and arrhythmias.
Clinical Expertise:
Simple and complex coronary interventions including primary and rescue angioplasties.
Intravascular imaging - IVUS and OCT
Coronary physiology guided revascularization using FFR, RFR and iFR.
Trans-catheter closure of simple congenital heart defects like ASD, VSD, PDA and RSOV.
Balloon Mitral valvotomy
Pericardiocentesis and management of pericardial diseases.
Temporary and permanent pacemaker implantation (TPI and PPI)
Medical management of acute and chronic heart failure, Valvular heart diseases, ischemic heart disease, various arrhythmias like atrial fibrillation and supraventricular and ventricular tachycardias, Pulmonary thromboembolism, peripheral arterial diseases, Diabetes mellitus, Hypertension and Dyslipidemias.
Echocardiographic assessment of complex congenital heart diseases.
 
Other Similar Doctors