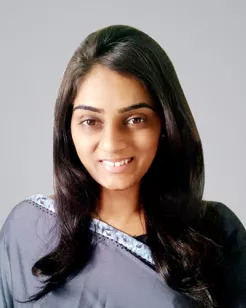 Dr. Nilam Behere-Kolekar
Consultant Psychiatry
Overview
Dr. Nilam Behere-Kolekar has completed her MD Psychiatry with distinction from the prestigious Seth GS Medical College and KEM Hospital, Mumbai and Bombay Deaddiction Centre of Excellence. She has worked as an Assistant Professor of Psychiatry in KEM Hospital, Mumbai and as a Onco-psychiatrist in HCG Apex Cancer Hospital, Mumbai. She had also been working as a Mental Health Research Scientist in the Public Health Foundation of India, Delhi and a visiting faculty of Mental Health Epidemiology in Indian Institute of Public Health, Delhi.
She has been publicly speaking on Mental Health, Addictions and Suicide prevention on platforms like Tata Institute of Social Sciences Mumbai, BMC public schools, Cine and Television Actors' Association Mumbai and many more. She has presented her research work in Psychiatry in various National and International Scientific Summits. She has worked on pan-India Training of General Practitioners in Mental Health in Collaboration with The Live Love Laugh Foundation by Deepika Padukone and Training in Telephonic Mental Health Counselling by Lay Counsellors in Uttar Pradesh in Collaboration with UNICEF.
She has been keen on working in the field of Child Psychiatry, Addiction Psychiatry, Stress related Mental disorders and Old-age Mental Health and Dementias.
She believes that Mental Health is an essential aspect of overall health and wellbeing and hence its attainment is of par importance. She emphasizes on preventive aspects of mental health where lifestyle modifications, coping strategies and adaptive thinking patterns can help us all lead a positive life.
Area of expertise
Child Psychiatry
Experience of running specialized Child Guidance Clinics. This involves screening of children and adolescents for poor school performance, behavioural issues, intellectual disabilities, gadget and gaming addiction, autism and child abuse. Common therapies offered are Effective Parenting skills, Behavioral Contingency Management, Problem solving techniques, Play therapy and drug treatment for various other disorders.
Addiction Psychiatry
Experience of working in Deaddiction Centre of Excellence. Deaddiction management involves identification of Problem drinking, Alcohol dependence, Smoking/ Tobacco addiction, other drugs addiction and digital/gadget addiction. Short term and long term management which includes, medical management, motivational enhancement techniques, family interventions and social rehabilitation.
Depression and Anxiety Treatment
Extensive experience of management of Depression and Anxiety disorders of all ages. The management includes counselling and Cognitive Behavioural Therapy, Behavioral Activation, Problem Solving Strategies, Relaxation Therapies and Medicines.
Suicide Prevention
Has been working extensively in patient management and publicly speaking on suicide prevention on various national fora. Suicide prevention strategies include Crisis Intervention, Problem solving, Life-skills training and medical management
Old Age Mental Health and Dementia
Special experience backed by research area of interest in Dementia and old-age Mental Health. Dementia management include medical management, cognitive exercises, family interventions and Activities of Daily Living (ADL) support.
Awards and recognitions
Nominated for the most prestigious national- Marfatia Award for scientific presentation on Cognitive Impairment in Post-Stroke Patients

Nominated for L P Shah Award of Bombay Psychiatric Society for scientific presentation on Treatment Adherence in patients of Schizophrenia

Received Grant of Multi-Disciplinary Research Unit of KEM Hospital, Mumbai for Psychiatric comorbidities in Renal and Liver transplant patients

Empanelled as consultant psychiatrist for Cine and Television Actors Association (CINTAA) Mumbai
Other Similar Doctors