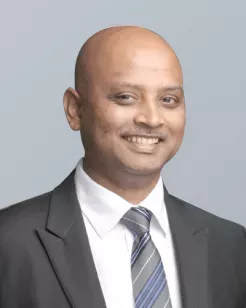 Dr. Sonal Asthana
Lead Consultant - HPB & Liver Transplant Surgery
MBBS, MS, MRCS, ASTS (Multiorgan Transplant Fellowship), MSc
Overview
Dr Sonal Asthana is a Lead Consultant of HPB & Liver Transplant Surgery, presently working at Aster Hospitals. He has acquired huge knowledge in the field with close to two decades of expertise to his credit as a Hepato Pancreato Biliary and Multi-organ Transplant Surgeon.

He completed MBBS and MS from JIPMER in Pondicherry. He did MRCS (Membership of the Royal College of Surgeons) from The Royal College of Surgeons of Edinburgh in the United Kingdom. Later he did MSc from the University of Alberta in Canada. He did Fellowship in Multi-organ transplantation, accredited from American Society of Transplant Surgeons (ASTS) from Edmonton in Canada.

He has wide experience in performing transplant surgeries of liver, kidney and pancreas, clinical islet cell transplant & surgical management of diseases of the liver, gallbladder, biliary and pancreas, including cancers and small bowel transplant.

Dr Sonal Asthana was trained at some of the reputed institutes in the United Kingdom, Canada and India. His areas of special interest are management of Hepatitis C, Post-Transplant Immunosuppression, Hepatocellular Carcinoma, Transplant Epidemiology and Ischemia-Reperfusion. He is regarded as one among the Best Liver Transplant Surgeons in Bangalore for offering comprehensive medical care for patients.
Dr. Sonal Asthana is available for consultation at Aster CMI Hospital (Bangalore), Aster RV Hospital (Bangalore) and Aster Medcity Hospital (Kochi).
Area of expertise
Management of Hepatitis C
Post-Transplant Immunosuppression
Hepatocellular Carcinoma
Transplant Epidemiology
Ischemia-Reperfusion
Awards and recognitions
British Transplant Society, The Canadian Transplant Society, Alberta Heritage fellowship (AHFMR) & American Association of the Society of Liver disease (AASLD) HPB surgery and Liver Transplantation and The American Society of Transplantation awards.
 
Achievements:
He is a Senior Consultant in the Department of Hepatobiliary Surgery and Multi-organ Transplantation at Aster CMI Hospital in Bangalore?.
He obtained subspecialty training in Surgical Oncology - All India Institute of Medical Sciences (AIIMS), New Delhi?.
He did ?Postgraduate Research Degree from the University of Alberta.
He did a fellowship in Multi-organ transplantation in Edmonton in Canada?, accredited by American Society of Transplant Surgeons (ASTS).
He was trained in Hepatobiliary Surgery and Multi-organ transplantation at the St James's University Hospital in Leeds at the UK?.
He was selected for the European Health Leadership program at INSEAD in France.

Papers Published:
He Has Published 40+ Research Articles In International Journals.