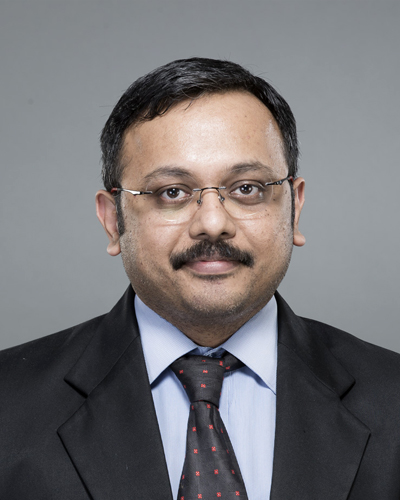 Dr. Chetan Ginigeri
Program Director - Paediatrics, Aster Hospitals, Bangalore & Lead Consultant - Paediatrics & Paediatric Intensive Care
MBBS, MD (PGI), Fellowship PICU
Overview
Dr. Chetan Ginigeri is an experienced Pediatric Intensivist with national and international training. With 17 years of experience, he is one among very few Intensivists in India trained to take care of children who need/had organ transplants. He has been responsible for coordinating the Pediatric Organ Transplant program.
Dr. Ginigeri's interest in state-of-the-art Pediatric critical care had earlier led him to Kings College, London, in the United Kingdom, where he received training in Advanced Pediatric Intensive Care. King's College, London, is one among the top 30 universities in the world. His graduate and post-graduate training were at two of India's premier medical training institutes, the Jawaharlal Institute of Post Graduate Medical Education and Research (JIPMER), Puducherry and the Post Graduate Institute of Medical Education and Research (PGIMER), Chandigarh respectively.
He previously heads the Children's ICU at Narayana Hrudayalaya and then the dept of Pediatrics at PeopleTree Hospitals.
As a part of his job, he noticed that in recent times the quantum of unintentional injuries in children is on an alarming rise and child safety is slowly becoming a new public health issue. He has authored a book "PLAYFUL – an ultimate guide to child safety" to bring to fore this issue causing death and serious disability in children. He is also a proud recipient of Rotary Vocational Excellence Award for the Year 2013 for his contribution towards Child Safety and Paediatric Critical Care.
He is admired by his patients and their families for his love and commitment towards the care of children. His friendly nature and talent to deal with the most advanced critical care situation in children with competence and ease make him a sought- after clinician.
Area of expertise
Pediatric ICU
Pediatric Organ Transplant
Pediatric Emergency and Child Safety
Awards and recognitions
Vocational Excellence Award from Rotary Bangalore for Child Safety and Pediatric ICU
 
Membership
Indian Academy of Pediatrics
Indian Academy of Pediatrics (Respiratory Chapter)
Indian Academy of Pediatrics (Intensive Care Chapter)
Society for Trauma and Emergency Pediatrics

Papers Published
Has written more than 25 articles for peer reviewed publications as the Indian Journal of Pediatrics, Indian Pediatrics, Biomedicine, Current Pediatrics etc
Narayanan P, Chetan G, Mahadevan S. Wilson's disease presenting as respiratory failure. Indian J Pediatr. 2006 Jan; 73(1): 99-100.
Sharmila RR, Chetan G, Narayanan P, Srinivasan S. Multiple organ dysfunction syndrome following single wasp sting. Indian J Pediatr. 2007 Dec;74(12):1111-2.
Chetan G, Mahadevan S, Sulanthung K, Narayanan P. Intravenous immunoglobulin therapy of lupus pneumonitis. Indian J Pediatr. 2007 Nov;74(11):1032-3.
Chetan G, Rathisharmila Ramar and Parameswaran Narayanan Salmonella meningitis in one and half months old child. Biomedicine Vol 27: No 3 (July – September); 2007.
G. Chetan, Vishnu Bhat, KS. Sreerag, S. Jagdish, Jayanthi. S Congenital Fibrosarcoma of Foot – A case report. Curr Pediatr Res 2008; 12(1 & 2).
vChetan G, K S Sreerag, Rathisharmila R, J Barath, P Narayanan, S Jagdish, Vishnu Bhat B. Unusual case of congenital diaphragmatic hernia – A case report. Curr Pediatr Res 2008; 12(1 & 2).
G. Chetan, Rathisharmila R., Narayanan P., and Vishnu Bhat B. Persistent pulmonary hypertension of the new born - A Review. Biomedicine 2007; 27 (4): 136 – 142
Biswal, Niranjan, Narayanan, Parameswaran, Chetan, Ginigeri; Cyclosporine A responsive pure red cell aplasia in a child with systemic lupus erythematosus Indian Journal of Hematology and Blood Transfusion, Volume 23, Numbers 3-4, December 2007 ,107-108(2).
P.S. Rajakumar, B. Vishnu Bhat, M.G. Sridhar1, J. Balachander2, B.C. Konar1, P. Narayanan and G. Chetan Cardiac Enzyme Levels in Myocardial Dysfunction in Newborns with Perinatal Asphyxia. Indian J Pediatr. 2008 Dec 75 (12):1223-5.
P.S. Rajakumar, B. Vishnu Bhat, M.G. Sridhar1, J. Balachander2, B.C. Konar1, P. Narayanan and G. Chetan.
Electrocardiographic and Echocardiographic Changes in Perinatal Asphyxia. Indian J Pediatr. 2009 Mar;76(11):261-64.
Ginigeri Chetan, Rathi Sharmila Ramar, Narayanan P, Vishnu Bhat. B, Srinivasan S Oil instillation pneumonia- A social evil.
Curr Pediatr Res, Vol 13, No 1,2 (2009) G Chetan, R Rathisharmila, P Narayanan and S Mahadevan. Acute Respiratory Distress Syndrome in Pediatric Intensive Care Unit. Indian J Pediatr 2009 Oct;76(10):1013-6.
Rao S, D'Cruz AL, Aggarwal R, Chandrashekar S, Chetan G, Gopalakrishnan G, Dunn S. Pediatric liver transplantation: A Report from a Pediatric Surgical Unit. J Indian Assoc Pediatr Surg 2011;16:2-7
Ramanath Mahale, Chetan G, Hiremath Sagar, Rajiv Aggarwal. Plasmapheresis as an adjuvant treatment modality in Toxic Epidermal Necrolysis: A Case Report. Journal of Clinical and Diagnostic Research [serial online] 2011 February [cited: 2011 May 28]; 5:107-108.
Mahale, Ramanath, Rathi, Pankaj, Ginegiri, Chetan, Aggarwal, Rajiv. Factor VII deficiency-A Rare Case Report. Indian Journal of Hematology and Blood Transfusion Volume 26, Number 2, June 2010, pp. 68-69(2).
Supraja Chandrasekar; Chetan G; Pankaj Rathi; Rajiv Aggarwal. Organophosphate poisoning presenting as acute respiratory distress. Indian J Pediatr (2010) 77:1195–1196
Mohanty S, Kumar P2 Solomon A, Ginigeri C. Hypotension After a Pediatric Invasive Procedure: Beware of Takotsubo Cardiomyopathy. Indian J Pediatr. 2018 Oct;85 (10) :922-923.