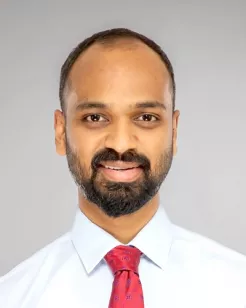 Dr. Pavan B K
Senior Specialist - Vascular and Endovascular Surgery
MBBS, MS (General Surgery), DrNB (Vascular & Endovascular surgery)
Overview
Dr. Pavan B K is a Vascular & Endovascular surgeon currently working at Aster CMI Hospital, Hebbal & Aster RV Hospital, JP Nagar, Bangalore. Dr. Pavan has expertise in the management of peripheral arterial diseases, varicose veins, arterio venous malformations, aortic aneurysm repairs, dialysis access procedures like AV fistula & graft, also the stroke prevention procedures like carotid endarterectomy, stenting and management of diabetic foot wounds.
Dr. Pavan has completed his MBBS and MS-General Surgery from Sri Devaraj Urs Medical college. Having completed DrNB from the prestigious Jain institute of Vascular Sciences(JIVAS),he has been trained in the management of complex peripheral vascular conditions both open vascular surgeries as well as minimally invasive endovascular interventions.
Area of expertise
Peripheral vessel angioplasty & stenting for Peripheral Arterial Diseases (PAD)

Surgical Bypass procedures for PAD

Thromboembolectomy for Acute limb ischemia

Diabetic Foot management

LASER treatment for Varicose Veins

Radiofrequency ablation of Varicose Veins

Foam sclerotherapy for Varicose Veins

Open Varicose Vein surgery

Dialysis Access Surgeries - AV Fistula, AV grafts, Basilic vein Transposition & Permcath insertion

Minimally invasive dialysis access salvage procedures [Central venous angioplasty & access angioplasty]

Endovascular Repair of Abdominal Aortic Aneurysms [EVAR]

Open Abdominal Aortic Aneurysm Repair

Catheter Directed Thrombolytic Therapy for Acute Deep Vein Thrombosis

IVC filter placement

Stroke prevention procedures like carotid endarterectomy and stenting 

Carotid Body Tumour excision

Renal artery stenting

Thoracic Outlet Syndrome.


 
Presentations and publications
"A rare case of Perforator Vein Aneurysm (PVA)" published in Indian journal of Vascular and endovascular surgery (IJVES) ,November 2019.

"Subclavian arterial stent migration from technical error and effective strategic bail out." Indian J Vasc Endovasc Surg  January 2022.

Poster presentation: "EVAR With Chimney For Juxta Renal Aortic Aneurysm: A Case Report" at VSICON 2020.

Paper presentation: "Outcomes of hybrid procedures for salvage of occluded prosthetic grafts for CLTI: Our institutional experience." At VSICON 2021.