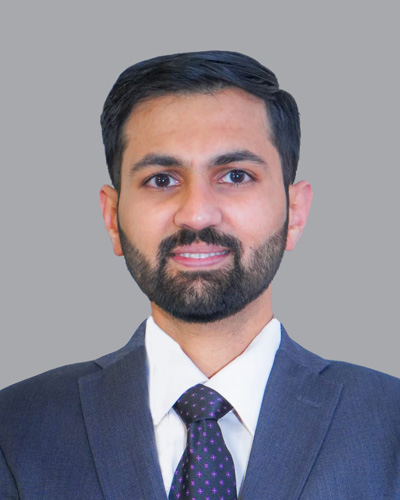 Dr. Akshay Hari
Consultant - Neuro Surgery and Spine Surgery
MBBS, DNB (Neurosurgery), Fellowship in Minimally Invasive & Advanced Complex Spine
Overview
Dr. Akshay Hari is a highly qualified neurosurgeon and spine surgeon, working as Consultant of Neurosciences at Aster CMI Hospital, with the goal of providing the best quality neurological service for patients. He has a wide experience in Minimally Invasive Brain and Spine Surgeries, Micro-Neurosurgery, Critical Care Management of Head and Spine Injuries, Brain Tumors, and Spinal Deformities. He has also worked with other private hospitals in India and abroad and has handled a variety of responsibilities. He completed his post-graduate super-speciality training in neurosurgery (Diplomate of National Board - DNB) and under-graduate primary medical training (MBBS) from the Rajiv Gandhi University of Health Sciences, Bangalore.

During his training years, Dr Akshay has accumulated a wealth of national and international accolades including high honours in Neurosurgery from the Massachusetts General Hospital, Boston, USA (affiliated to Harvard Medical School) and was a visiting Neurosurgical trainee at the University of Groningen, Netherlands. He was also awarded the prestigious AO Spine fellowship, along with an AO Spine Research grant for his pioneering work on the use of ultrasound in reducing radiation during spine surgery. He was granted the first-ever joint NSI-CNS travelling fellowship and was chosen to be selected for the esteemed "Ambassadorship" student exchange program under the aegis of the American Association of South Asian Neurosurgeons (AASAN) at the University of California, San Francisco, USA.

Having travelled the world, receiving training and expertise in some of the best neurosurgical centres in the USA and Europe, Dr Akshay derives experience in a diverse range of areas in the brain and spinal surgery. He went on to pursue a highly competitive spinal fellowship, obtaining subspecialty training and expertise in the treatment of complex spinal surgery, including robotic spinal surgery and minimally invasive spinal surgery at The Royal Melbourne Hospital, Melbourne, Australia.

Dr. Akshay Hari operates on a high volume of referral and non-referral patients, performing up to 30 operations per month to address various neurosurgical and complex spinal pathologies including deformities, trauma, degenerative conditions and tumours apart from the peripheral nerve, general neurosurgery and procedures for pain. He implements a range of time-tested and novel procedures, treatments and therapies, including advanced minimally invasive techniques. He conducts special outreach camps and programs at the community level to spread awareness about spinal health and illnesses. He has organized various CME's and workshops including cadaveric courses and hands-on training programs for Minimally Invasive spine surgery and is deeply involved in academic research.

He is skilled in performing clinical research and stays abreast of new technologies in the field. He is resourceful and has an open mind to exploring alternative treatment options to provide patients with the best possible health outcomes and is eager to apply these skills in daily practice.
Area of expertise
Minimally invasive spine surgeries – Discectomy, Laminectomy, ACDF, lumbar fusion, TLIF, PLIF, XLIF, cervical arthroplasty, spinal tumour, vertebroplasty, kyphoplasty
MIS Instrumentation procedures – pedicle screws, lateral mass screws, CV Junction fixations, trauma stabilization
Cranial trauma, craniotomy, brain tumours, Stereotactic biopsy, Navigation and ultrasound-guided procedures
Minimally invasive and advanced complex spine surgery - scoliosis correction, deformity correction
Endoscopic spine surgery, Functional Neurosurgery, MIS procedures for pain
Awards and recognitions
AO Spine Research Grant Award - "Development of an ultrasound-guided tool for pedicle screw placement"
NSI Travel Fellowship - Resident Support award - Poster presentation CNS meeting, Boston, USA
Professor Ming Chien Kao's Scholarship "AASNS Award", South Korea
AO Spine fellowship -Sir Gangaram Hospital, New Delhi
AASAN Ambassadorship award for International Visiting Spine Fellowship – University of California, San Francisco, USA
Fellowship in Spinal Surgery – The Royal Melbourne Hospital, Melbourne, Australia

Membership
2011 – till date NSI- Neurological Society of India (neurosurgery division)
2012 – till date AANS - American Association of Neurological Surgeons
2012 – till date North American Spine Society
2012 – 2016 CNS - Congress of Neurological Surgeons
2012 – 2016 AO spine
2012 – till date American Association of South Asian Neurosurgeons
2018 – till date Bangalore Neurological Society
2018 – 2019 Melbourne Spine Study group
2019 – till date Minimally Invasive Spine Surgeons Association of Bharat

Papers Published
Hari A, Praharaj SS, Satish S, Ganesh V. Rare case of cerebello-pontine angle meningioma causing painful tic convulsif. Clin Neurol Neurosurg. 2014 Sep;124:135-7. Doi:10.1016/j.clineuro.2014.06.036. Epub 2014 Jul 8.
Hari A, Krishna M, Rajagandhi S, Rajakumar DV. Minimally invasive transforaminal lumbar interbody fusion—indications and clinical experience. Neurol India 2016;64:444-54
Rajagandhi S, Hari A, Krishna M, Deshpande RV. Transcorporeal excision of cervical intradural lesions: Two cases and a literature review. Neurol India. 2016;64(6):1341-1345
Rajakumar DV, Hari A, Krishna M, Konar S, Sharma A. Adjacent-level arthroplasty following cervical fusion. Neurosurg Focus. 2017 Feb;42(2):E5.
Rajakumar D, Sharma A, Hari A, Konar S, Krishna M. Two-level cervical arthroplasty using a no-distraction technique. Neurosurg Focus. 2017 Jan;42(VideoSuppl1): V1.FocusVid.1637
Rajakumar DV, Hari A, Krishna M, Sharma A, Reddy M. Complete anatomic reduction and monosegmental fusion for lumbar spondylolisthesis of Grade II and higher: use of the minimally invasive rocking technique. Neurosurg Focus. 2017 Aug;43(2):E12.
Hari A, Reddy K, Rajakumar DV. Use of ultrasound in minimally invasive spinal instrumentation surgery. J Neurosurg Sci. 2017 Dec;61(6):683-686
Hari A, Krishna M, Rajagandhi S, Sharma A, Deshpande RV. Minimally invasive lateral foraminotomy with partial lateral facetectomy for lumbar radiculopathy-An evaluation of facet integrity and description of the procedure. Neurol India. 2017 Nov-Dec;65(6):1358-1365
Hari A, Kavar B. Rare case of malignant transformation of a solitary spinal osteochondroma into recurrent metastatic chondrosarcoma. Journal of Clinical Neuroscience. 2019 Jun 19.
Srikantha U, Hari A. Minimal invasive spine surgery – A ready reckoner. Neurol India 2019; 67:959-60