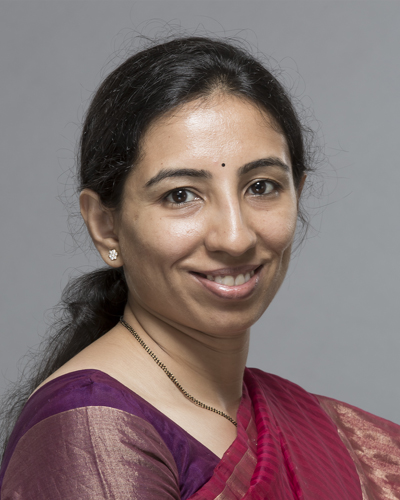 Dr. Anuradha H K
Consultant - Neurology
Overview
Dr. Anuradha H K is a consultant - Neurology at Aster CMI Hospital, Bangalore. Dr. Anuradha, with over 9 years of experience in neurology, specializes in the treatment of various neurological diseases like stroke (including thrombolysis, treatment of spasticity), epilepsy, neuropathies, movement disorders (Parkinson's disease, etc.) headache, etc. She has a special interest in epilepsy and headache and has been trained in neurophysiology and botox injections for various neurological diseases. She is also trained in pain management at Seoul, South Korea, for various neurological diseases.

She has done her MBBS from VIMS, Karnataka in 2000 and MD in General Medicine from Father Muller Medical College, Bangalore. Later, in 2010, she completed her DM in Neurology from King George Medical College, Lucknow. She has also done an internship from Vijayanagar Institute of Medical Sciences.
Area of expertise
Epilepsy
Headaches and pain
Neuroinfections
Stroke
Demyelinating diseases
Neuropathies and movement disorders
Awards and recognitions
Awarded Gold Medal in MD, General Medicine, RGUHS, Bangalore (March 2007).
Membership
Indian Academy of Neurology
Indian Epilepsy society
Bangalore Neurological society

Papers Published
Intrathecal Interferon in patients of Subacute sclerosing panencephalitis - A pilot study. Indian Academy of Neurology Conference, Cochin, Sept 2009.
Co-Author for a chapter "Approach to a case of peripheral neuropathy," in postgraduate Update book in Medicine, UP
Few on tuberculosis of brain /neuropathy/stroke

Publications:
MK Sinha, Anuradha HK, R Juyal, R Shukla, RK Garg, AM Kar. Edaravone in acute ischemic stroke, An Indian experience. Neurol Asia 2009; 14:7-10.
MK Sinha, RK Garg, HK Anuradha, AA Agarwal, A Parihar, PA Mandhani, Paradoxical vision loss associated with optochiasmatic tuberculoma in tuberculous meningitis: A report of 8 patients. J Infect 2010; 60: 458-466.
MK Sinha, RK Garg, HK Anuradha, Agarwal A, Singh MK, Verma R, et al. Vision impairment in tuberculous meningitis: predictors and prognosis. J Neurol Sci 2010: 290:27-32.
Anuradha HK, RK Garg, MK Sinha, A Agarwal, MK Singh, R Verma, R Shukla. Stroke in tuberculous meningitis. QMJ 2010; in press.
Abhishek Yadav, Chaynika Chaudhary, Anuradha H K, Atul Agarwal, Sanjay Verma, Kashi N. Prasad, et al. Correlation of CSF Proinflammatory Cytokines with MRI in Tuberculous Meningitis. Acad Radiol 2010; 17:194-200.
HK Anuradha, RK Garg, MK Sinha, A Agarwal, R Verma.Predictors of Tuberculoma. International journal of Tuberculosis and Lung Diseases; and many more.
Other Similar Doctors