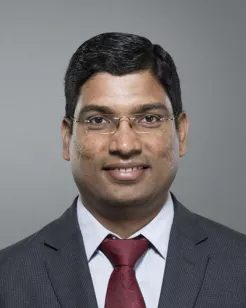 Dr. Harish Kumar
Consultant - Paediatrics & Paediatric Intensive Care
MBBS, MD (Paediatrics), Fellowship in Paediatric critical care, PG (Paediatric nutrition)
Overview
Dr. Harish Kumar H is a dynamic and young pediatrician who heads an equally young and dynamic team. Trained in the best centres in India and having a wealth of experience in managing pediatric ICUs and pediatric teams, his core strengths are advanced pediatric ICU, pediatric procedural skills, resident and nurses training.

Dr. Harish has a fellowship in paediatric intensive care (IAP) and has been a consultant in paediatrics in many hospitals, Bengaluru. He is currently a consultant pediatric Intensivist at Aster CMI Hospital. He has an MBBS, MD in Paediatrics and a post graduate in Pediatric Nutrition from Boston University-USA.

His community initiatives directed towards teachers, parents and children are well appreciated. He is an able administrator and his pragmatic approach makes him a go-to man in all crisis situations. He is a regular faculty in many state and national conferences and has many publications to his credit. Together with his team, he envisages a beautiful, child and parent centric children's hospital.
Area of expertise
Pediatric Intensive care & Nutrition
Awards and recognitions
Faculty in National and State Conferences
Conducted workshops regularly in the field of Pediatrics and Pediatric Intensive care.

Membership
Indian Academy of Pediatrics
Indian Medical Association.
Bangalore Pediatric Society

Papers Published
Contributed a chapter in book "IAP protocols for practising Pediatricians 2019".
Study of Carbon Particles in Sputum and its Correlation with Prevalence of Respiratory problems in Children Exposed to Environmental Smoke- one year cross sectional study. Under the Guidance of Dr. V.D. Patil MD, DCH. Principal and Professor of Paediatrics, J.N. Medical College, Belgaum. Belgaum in 2007. Published in Eur Respir Rev 2008: 17: 107, 20-21.