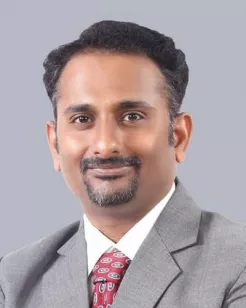 Dr. Mahesh M S
Consultant - Plastic Surgery
MS, MBBS, MS (General Surgery), MCh (Plastic Surgery)
Overview
Dr. Mahesh M S is a registered Plastic & Cosmetic Surgeon in Bangalore, presently working as a Consultant in the Department of Plastic Surgery at Aster CMI Hospital.  He is dedicated to excellence and provides his patients a personalized focus. His ultimate goal is to provide satisfaction to his patients' needs with excellent results. He vehemently understands the concerns of his patients seeking plastic surgery procedures and provides them scrupulous solutions with paramount discretion. Working in a team he is creating a positive impact on the lives of his patients by delivering treatment with benevolence.
 
Professional Experience:
He has overhaul surgical experience of more than 12 years. Having completed MBBS from M.S.Ramaiah Medical College, Bangalore, in the pursuit of realizing his childhood dream of being a Plastic surgeon, he did his post-graduation (MS) in General Surgery from Adichunchanagiri Institute of Medical Sciences, Karnataka before taking MCh in Plastic & Reconstructive Surgery. He had worked as Assistant Professor in General Surgery for three and half years at Sri Devraj Urs Medical College and as a Registrar in plastic surgery for almost 2 years at BGS Global Hospitals, Bengaluru prior to his residency / MCh in plastic surgery at Rajarajeshwari Medical College under the able guidance of the eminent plastic and burn surgeon Dr. Prema Dhanraj. After completion of his super-specialty training in plastic surgery, he joined back BGS Gleneagles Hospital Bengaluru and worked as a junior consultant under Dr. Madhusudan G for at least six months. Currently, he is rendering his services in Aster CMI, Bangalore, along with Dr. Madhusudan G, and has developed a niche for himself and the team.
 
Observations/ Training
Minimal Access Surgery Training course, by International College of Surgeons – Indian Section at AIMS, Mandya District (2009).
Basic Microsurgery Course, at M.S.Ramaiah Advanced Learning Centre during (2015). 
Cleft lip and palate surgery, under the able guidance of Dr. H.S.Adenwala and Dr.P.V.Narayanan at The Charles Pinto Centre for Cleft Lip & Palate – Jubilee Mission Medical College & Hospital, Trichur (2016)
Aesthetic Surgery, under the guidance of Dr. Ramachandran. K at Apollo Cosmetic Clinic, Chennai from (2016)
 
Area of expertise
Area of Expertise
Trauma and Onco Reconstruction
Acute burn management and burn reconstruction.
Reconstructive Microsurgery.
Cosmetic Breast Surgeries like augmentation, reduction, and gynecomastia surgery
Facial aesthetic surgery- Facelifts, Bhlepheroplasty, Rhinoplasty, Otoplasty.
Body Contouring, Abdominoplasty, Liposuction, brachiplasty.
Gender transformation Surgeries
Awards and recognitions
University Rank holder (2009) in MS General Surgery, Rajiv Gandhi University of Health Sciences.
 
Membership
Karnataka Association Of Plastic, Reconstructive & Aesthetic Surgeons (KAPRAS)
Association of Plastic Surgeons of India (APSI)
Indian Professional Association For Transgender Health (IPATH)
Society for Wound Care & Research (SWCR)
 
Papers Published
Besides his clinical expertise, he also has an exceptional academic record. He has presented a number of research papers at national conferences and has many publications in esteemed journals to his credit.