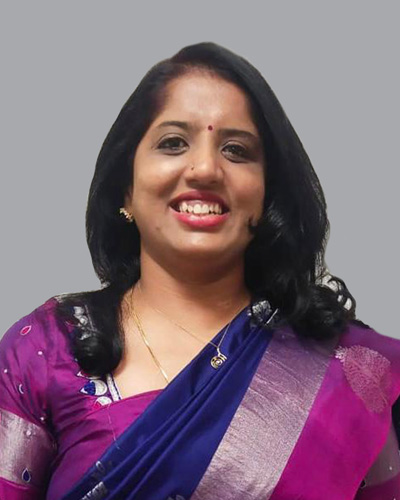 Dr. Nirmala S
Consultant - Neurosurgery
MBBS, M.S (Gen Surgery), M.Ch (Neuro Surgery), Fellow in Functional Neurosurgery
Overview
Dr. Nirmala S graduated from the Rajiv Gandhi University of Health Sciences with an MS in General Surgery and an M.Ch in Neurosurgery with an excellent track record during her undergraduate studies earning the highest marks in the subjects of Community Medicine, Surgery, and OBG at Sri Devaraj Urs Medical College, Kolar. She has gone on to have a stellar career as a Neurosurgeon with many years of experience. Her repertoire ranges across an impressive range of neurosurgical cases such as the evaluation and management of intracranial tumors, hydrocephalus, movement disorders, spinal trauma, and spinal disorders. She is an expert in handling neurosurgical emergencies like trauma, stroke, seizures, and neuro infections.

Dr. Nirmala has independently performed more than 200 craniotomies for trauma, decompression, and SDH, and 100 VP shunts, EVD, and Burrholes for various cranial procedures. She has assisted in more than 100 cases of elective neurosurgical procedures for acoustic neuromas, ACM with a syrinx, intracranial tumors, over 100 cases of Intracranial aneurysms, and more than 100 interventional angiograms. She has independently performed over 100 nerve and muscle biopsies.

She endeavors to provide the best care for patients by being up-to-date with the latest neurosurgical advances. To this end, she has assisted in the evaluation and management of movement disorders for DBS surgeries, in temporal lobectomies, and other procedures like dorsal column stimulation and inter stim.

Dr. Nirmala has been actively involved in various health camps conducted by Aster CMI Hospital. She is actively involved in academia and research and has won accolades such as securing the First Prize in Quiz in SHINE 2015 and the First Prize for her Paper presentation in SSBASIC Sept-2014. Recently, Dr. Nirmala received a Fellowship in Functional Neurosurgery from Rajiv Gandhi University of Health Sciences, Karnataka in June 2023, and this makes her the first female fellow in India. She has innumerable academic papers published in reputed journals to her credit and has presented at prestigious conferences, her research, and posters. Dr. Nirmala is also an Author, lending her expertise by contributing to the "Handbook of Deep Brain Stimulation".
 
Area of expertise
Handles neurosurgical emergencies like trauma, stroke, seizures and neuro infections and critical care management
Evaluation and management of intracranial tumors, hydrocephalus, movement disorders, spinal trauma and spinal disorders
Paediatric neurosurgery, epilepsy surgery, skull base surgery
Awards and recognitions
First Prize in Quiz in SHINE 2015
First prize for Paper presentation in SSBASIC Sept-2014
Highest marks in Community Medicine, surgery and OBG in Sri Devaraj Urs Medical college, Kolar

Papers Published
Apache II Scoring System in perforative peritonitis, Kulkarni SV, Anitha S Naik, Nirmala Subramanian, Am J Surg. 2007 Oct;194(4):549-52
Microsurgical Surgical anatomy of the posterior circulation, Pai BS1, Varma RG, Kulkarni RN, Nirmala S, Manjunath LC, Rakshith S Neurol India. 2007 Jan-Mar;55(1):31-41
Morphometric analysis of the thoracic pedicle: an anatomico-radiological study Pai BS; Gangadhara, Nirmala S, Murali Mohan S, Varsha SM. Neurol India. 2010 Mar-Apr;58(2):253-8. DOI: 10.4103/0028-3886.63808
Occipital Dermal Sinus with a vermian dermoid sinus, Umesh Srikantha, Kiran Khanapure, Nirmala. S, Ravi Gopal Varma, J Neurosci Rural Parct.2012 Sep-Dec;3(3):392-394
Primary Cerebello Pontine Angle Melanoma: A case report. Arul ponni, Aniruddha Jagannatha, Janaki Gururajachar, Rititka Hajani, Kirthi Koushik, Nirmala Subramanian, International Journal of Cancer Therapy and oncology 2014 vol:2
Intracerebellar malignant nerve sheath tumor in a child: a case report and review of the literature. Krishna Chaitanya, Hariprakash Chakravarthy, Nirmala Subramanian, Childs Nervous System. Aug 2014 31(5).
Posterior Cervical laminoforaminotomy—A comparative study between open versus minimal invasive approach. Nirmala S Umesh Shrikantha, Aniruddha.T.J, Kiran Khanapure, Ravi Gopal Varma, A.S. Hegde. The Journal of Spinal Surgery, Jan-Mar 2015:2(1):8-12
Minimally invasive versus open transforaminal lumbar interbody fusion—early outcome observations. Nirmala.S, Umesh Shrikantha, Mansoorali Sitabkhan, Aniruddha T.J, Kiran Khanapure, Ravi Gopal Varma, A.S. Hegde. The Journal of Spinal Surgery Jan-Mar 2015:2(1):1-7


Case Reports
Primary cerebello-pontine angle melanoma: a case report Arul Ponni1, Aniruddha Jagannatha, Janaki Gururajachar1, Ritika Harjani, Kirthi Koushik, Nirmala Subramanian, Ramani Sowmya, Ravi Varma International Journal of Cancer Therapy and Oncology Published Online July 10, 2014
Intracerebellar malignant nerve sheath tumor in a child: case report and review of literature Krishna Chaithanya Jois, Hariprakash Chakravarthy, Nirmala Subramanian, published in May 2015

Awaiting Publications
Minimally Invasive Lateral Transpsoas approach for lumbar corpectomy and stabilization
Minimally Invasive Syringosubarachnoid shunt placement

Author For Books
Hand Book of Deep Brain Stimulation—Chapter on Frameless DBS
Trigeminal Neuralgia---Surgical Management of Complex Trigeminal neuralgia

Platform Presentations
Role of four-layer Bandaging for Chronic venous ulcers in ASICON 2005, Nirmala S Shilpa, Bagali Baba Saheb
Cervical laminoforaminotomy –A comparative study between open versus minimal invasive approach in NSICON 2013 Nirmala. S, Umesh Shrikantha, Aniruddha T J, Ravi Gopal Varma, Hegde AS held at Mumbai
An interesting intracranial tumor in a toddler—Nirmala. S, Kiran Khanapure, Umesh Shrikantha, Aniruddha T J, Hariprakash Chakravarthy, Krishna Chaitanya Ravi Gopal Varma, Hegde AS in NSI CON 2014 held at Coimbatore
Awake craniotomy –An institutional clinical experience—Nirmala. S, Kiran Khanapure, Umesh Shrikantha, Aniruddha T.J., Hariprakash Chakravarthy, Krishna Chaitanya Ravi Gopal Varma, Hegde AS in SSBASIC 2014 held at Bangalore
Role of Hemostatic Agents in Neurosurgery---Held by BAXTER
Use of Intravenous Fluorescein as a guide for resection of Brain Lesions--- Glowing Brain Lesions—Nirmala S, Yadhu K Loknath, Akshay Hari, Santhosh N.U Umesh Shrikantha, RaviGopal Varma in NSICON 2017 held at Nagpur
Paediatric Neurosurgery—There is Hope After all—As a Faculty in an IMA Conference held at Raichur

Poster Presentations
Intraventricular Hydatid cyst in a Child---SSBASIC 2006
Cirsoid aneurysms of the scalp—SSBASIC 2007
Rare primary malignant melanoma in cerebellopontine angle mimicking a petrosal meningioma –NSICON 2013
Micro vascular decompression for trigeminal neuralgia –Our Experience –NSICON 2014


Conference And CME Attented
ASICON (Annual Conference of Association Surgeons of India) 2005 at Jaipur
Mid-term Conference of INASL 2005 at Manipal Bangalore
KSC –ASICON 2006 at Bellary
CME (Continuing Medical Education) at Kasturba Medical college 2007
MODICON 2010 at Bangalore
EPICON 2011 at Bangalore
1st Annual Spine Cadaver Workshop 2012 at Bangalore
NSICON (Annual Conference of Neurological Society of India) 2013 at Mumbai
NSICON 2014 at Coimbatore
KNA CON 2013 at Bangalore
Intracranial and Endoscopy workshop 2014 in Bangalore
MSR Spine Symposium 2014 at Bangalore
Microneurosurgery and endovascular workshop 2014 at Bangalore
Bangalore Neuro Update 2014 at Bangalore
KNACON 2015 at Mangalore
SHINE 2015 at Chennai

Conference Conducted
EPIJNAN 2018 as Organising Secretary from ASTER CMI Hospital Bangalore
Other Similar Doctors