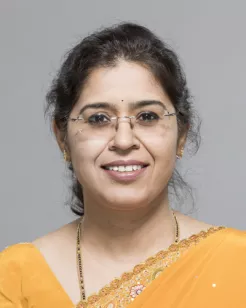 Dr. Rajani Ravindra Battu
Consultant - Ophthalmology
Overview
Dr Rajani Ravindra Battu is a Consultant in Ophthalmology at Aster CMI Hospital. Her qualification is M.B.B.S, M.S (Ophthalmology) D.N.B (Ophthalmology).

She has completed her MBBS at Bangalore Medical College, Bangalore University, Bangalore, India during 1988 - 1993. She secured 4" Rank among 10 medical colleges in Karnataka in the final year of MBBS and secured distinctions throughout her study of medicine.
In 1993 - 1994, she completed a Compulsory Rotating Internship which included all specialities of Medicine.
In 1994 - 1997, she completed her Master's Degree in Ophthalmology at St John's Medical College Hospital, Bangalore, India.
She obtained F.R.C.S (Edinburgh), Fellow of the Medical Research Foundation (Vitreoretina), Sankara Nethralaya ICO fellow, Moorfields Eye Hospital, London.

Her dissertation topic during the Master's degree was titled "Correlation of Optic Nerve Head Changes with Visual Field Changes in Primary Open Angle Glaucoma". It involved obtaining stereoscopic photographs of the optic nerve head and measuring various parameters like the vertical and horizontal size of the optic cup, the width and the contour of the neuroretinal rim at various clock hours using a superimposed photographic grid in patients with established primary open-angle glaucoma. Correcting magnification formulae were applied to assess the actual size of the optic disc using Littman's formula.
In 1997-1999: She obtained her Fellowship in Vitreoretinal Surgery Two-year fellowship in Vitreoretinal diseases at the Medical Research Foundation, Sankara Nethralaya, Chennai, India.
In 1999: She passed the FRCS Part II (Edinburgh) examinations.
She attended a training course in "Small Incision Cataract Surgery at Project Drishti, Mahaveer Jain Hospital, Bangalore, India from January to March 2004. Following the training, I was allowed to do about 50 surgeries independently.
She attended a three-week training course on "Phacoemulsification" at "I Care Centre", Noida, UP in May 2006.
In August 2011, she registered for an off-campus PhD with the Maastricht University, Netherlands. My thesis topic is "Inherited Retinal Diseases". My guide in Maastricht is Dr Jan Schouten while Prof Kumaramanickavel is my guide in Bangalore.
In September to November 2012, she obtained International Council of Ophthalmology (ICO) fellowship with Professor Antony Moore at the Moorfields Eye Hospital, London in Inherited retinal diseases".

Experience:
She has worked as a Consultant Vitreoretinal surgeon at The Battu Eye Centre, Bangalore, India before joining Aster CMI hospital.
She worked as a Senior Consultant in the department of Vitreo retina and head of the department of 'Eye Genetics' at Narayana Nethralaya, Bangalore, India from May 2007 to February 2015.
She worked as a Consultant Vitreoretinal Surgeon in the Department of Ophthalmology, Al Baraha Hospital, Ministry of Health, Dubai, UAE from May 2006 to Mar 2007.
She conducted a clinical attachment at the Rajendra Prasad Centre for Ophthalmic Sciences, All India Institute of Medical Sciences, New Delhi, India under Prof. S.P Garg, Chief, Vitreoretinal services from March 2006 to May 2006. The clinical attachment included active clinical involvement in managing patients with various vitreoretinal disorders including surgical management.
She worked as a Specialist Ophthalmologist and Vitreoretinal surgeon at the Canadian Specialist Hospital in Dubai from May 2004 till June 2005.
She was a Vitreoretinal consultant at Bhagwan Mahaveer Jain Netralaya, Bangalore, India from March 2003 to Mar 2004.
She was a Consultant at Bhagwan Mahaveer Jain Netralaya, Bangalore, India from Dec 1999 to Apr 2002 (Immediately following my fellowship).She was an observer at the Royal Victorian Eye and Ear Hospital, Melbourne, Australia from May 2002 to Feb 2003.
In addition to her duties at BMJN, she has worked as a vitreoretinal consultant at another private hospital in Bangalore called Narayana Nethralaya from September 2001 to December 2001. Her work essentially involved the same, all with posterior segment disorders. In addition to the duties, throughout her stay in Bangalore in the post-fellowship period. She has been a visiting vitreoretinal consultant to a private clinic in Bangalore. Primary duties involved are the examination of patients referred for pathologies of the posterior segment.

Surgical Experience:
She was competent in doing vitreoretinal surgeries of all difficulties. I have routinely been doing between 4-6 surgeries per week since I joined Narayana Nethralaya in 2007. These include the following:
Scleral buckling.
Pneumoretinopexy.
Parsplana vitrectomy for rhegmatogenous retinal detachments, giant retinal tears, removal of intraocular foreign body, complicated surgeries for advanced proliferative diabetic retinopathy and retinal detachments with proliferative vitreoretinopathy.
23 and 25 Gauge Parsplana vitrectomies.
Management of posterior segment complications of cataract surgeries including dropped nucleus, suprachoroidal haemorrhage.
Surgery for trauma including management of scleral tears.
3-D surgeries for PPV.
Use of intraoperative handheld OCT system.
Intravitreal injections.

She is proficient in outpatient procedures, including the use of all types of lasers for retinal diseases including slit-lamp laser, LIO and Pascal Laser and the latest navigated laser (NAVILAS). Her special expertise is in ophthalmic imaging including the interpretation of Spectral-Domain optical coherence tomography, fundus fluorescein angiography and hand-held OCT.

She has teaching Experience with regular undergraduate teaching as a part of the structured teaching program during my postgraduate training program.

In addition, teaching was a continuous process throughout the surgical schedules. Narayana Nethralaya is a postgraduate teaching hospital and she had trained postgraduates and fellows as an integral part of the schedule. She had trained fellows who were training in the medical and surgical retina in both outpatient clinics, outpatient procedures and surgical training.
Area of expertise
Vitreoretinal surgery
Medical Retina
Uveitis
Neuro-ophthalmology
Ophthalmic Genetics
Awards and recognitions
Obtained the 32nd rank at the Board Examination for the State of Karnataka in the 10th Grade (among approximately 2,00,000 candidates)
Obtained the 21st rank at the Board Examination for the State of Karnataka in the 12th Grade (among approximately 50,000 candidates).
Obtained the 11th Rank at the Common Entrance Test held for admissions to medical nni college.
Awarded the National Talent Search Scholarship by the National Council of Educational Research and Training (NCERT), New Delhi for the entire period of my education. The NCERT awards these scholarships based on a national talent search examination to the most talented students in the country.
Obtained the 4th Rank among 10 medical colleges in the state of Karnataka in the final year of MBBS.
Awarded Major General Bhatia Bangalore University Gold Medal for Physiology (Feb 1990).
Awarded Sri S L Bhatia Bangalore University Gold Medal in Ophthalmology (Feb 1994).
Awarded Sri Kaverappa Bangalore University Prize in Ophthalmology (Feb 1994).>
 Awarded Sri MC Modi Bangalore University Gold Medal in Ophthalmology (Feb 1994)
Secured X place in the Psychiatry Quiz conducted by the Indian Psychiatry Society - June 1993.
Passed the International Basic Science Assessment Examination conducted by the International Council of Ophthalmology - March 1997.
Awarded the "Host-A-Researcher Award by the ARVO, USA in 2009.
Awarded the Basheer Mekhri Award for 2nd Best Paper at the Annual Karnataka Ophthalmic Society Meet in Mysore, November 2014.
Other Similar Doctors