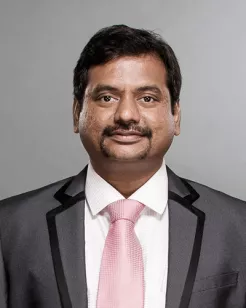 Dr. Santhosh N U
Consultant - Neurosurgery & Endovascular Neurosurgery
MBBS, MS, DNB, MCh (Neurosurgery), FINR
Overview
Dr. Santhosh N U, with over 8 years of experience, is a Consultant Neurosurgeon and Endovascular Neurosurgeon at Aster CMI Hospital. He has conducted complex brain and spine surgeries and has a special interest in Endovascular Neurosurgery. He secured a fellowship in Endovascular Neurosurgery from Zurich, Switzerland, under Prof Valavanis.

Dr. Santhosh has treated various cerebro-vascular diseases with minimally invasive Endovascular procedures. He has vast experience in various Neuroendovascular/Neurointerventional procedures like mechanical thrombectomy in acute stroke, aneurysm coiling, AVM embolization, tumour embolization, carotico cavernous fistula and Pial AV fistula embolization, carotid angioplasty and stenting. He has effectively managed various spinal vascular malformations.

After completing his MCH in Neurosurgery as a University topper from KEM Hospital Mumbai, he worked in the same institution as Assistant Professor along with Prof. Atul Goel. Later, he worked as a Consultant Neurosurgeon at a private hospital in Bangalore, after which he commenced work at Aster CMI Hospital. Dr. Santhosh is one of the few neurosurgeons in India with vast experience in endovascular neurosurgery.
Area of expertise
Neurosurgery And Endovascular Neurosurgery
Brain And Spine Surgeries
Treated Various Cerebrovascular Diseases With Minimally Invasive Endovascular Procedures. He Has A Vast Experience In Various Neuroendovascular/Neurointerventional Procedures Like Mechanical Chrombectomy In Acute Stroke, Aneurysm Coiling, AVM Embolization, Tumour Embolization, Carotico Cavernous Fistula And Pial AV Fistula Embolization, Carotid Angioplasty And Stenting Spinal Vascular Malformations
Paediatric Brain Tumors And Hydrocephalus, Traumatic Brain Injury And Various Spine Disorders.
Awards and recognitions
University topper in MCH, Neurosurgery from MUHS-Mumbai
Fellowship in interventional neuroradiology, Zurich
Fellowship in Endovascular Neurosurgery, Zurich


Membership
Society of Neurovascular Interventions – SNVI
Society of Therapeutic Neuro Interventions - STNI
Neurological Society of India - NSI
Bangalore Neurological Society - BNS


Papers Published
Several publications in leading journals
Presentations in national and international journals
Other Similar Doctors